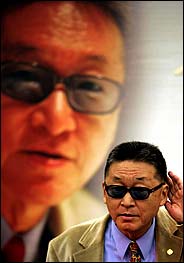 (Li Ao on 9/19/05. Source: NYT online, see below)
BEIJING, Sept. 22 – China's leaders may have felt they had no better friend in Taiwan than Li Ao, a defiant and outspoken politician and author who says that Taiwan should unify with Communist China.
But when China invited Mr. Li to tour the mainland this week, the Communist Party got a taste of its rival's pungent democracy.
During an address at Beijing University on Wednesday evening, broadcast live on a cable television network, Mr. Li chided China's leaders for suppressing free speech, ridiculed the university administration's fear of academic debate and advised students how to fight for freedom against official repression.
"All over the world leaders have machine guns and tanks," Mr. Li told the students and professors in the packed auditorium. "So I'm telling you that in the pursuit of freedom, you have to be smart. You have to use your cunning."
. . .
Though Mr. Li did not criticize President Hu directly, he made pointed references to the lack of freedoms in China and suggested that the "poker-faced" bureaucrats of the Communist Party did not have enough faith in their legitimacy to allow normal intellectual discussion.
With several top university officials sitting by his side, he called the administrators "cowardly" for ferreting out professors at the school who were suspected of opposing Communism.
JOSEPH KAHN. "China's Best Friend in Taiwan Lectures in Beijing About Freedom." New York Times (Fri., September 23, 2005): A7.