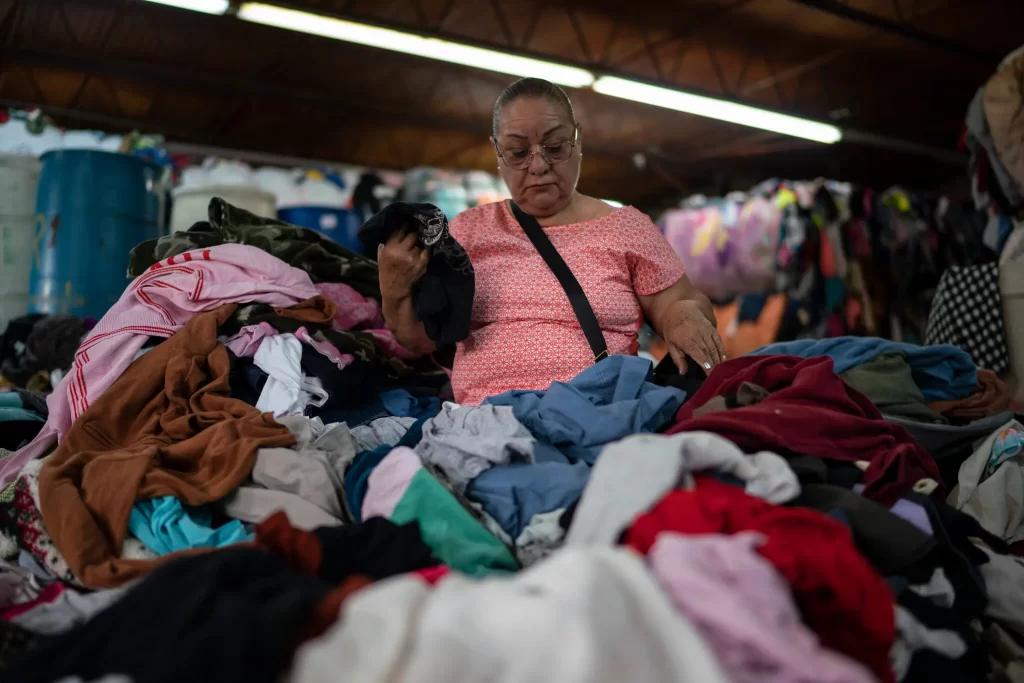 (p. 18) McALLEN, Texas — A mountain of clothes swallowed half of Juani Lira's petite body, from the waist down. But the 67-year-old did not seem to mind. Ms. Lira closely inspected a pair of black shorts studded with rhinestones and tossed them behind her, unimpressed. Too flashy for her teenage granddaughter, she murmured.

Ms. Lira then spotted a long-sleeved, pearl-colored blouse, still with a tag intact. Bingo. She looked around her, as if she were getting away with something, and tucked the blouse at the bottom of a duffle bag. At a price of 71 cents a pound, Ms. Lira was on her way to collecting a haul big enough to clothe most of her 13 grandchildren at Ludy's Ropa Usada in downtown McAllen.

. . .

During several visits to ropa usada warehouses, some of them just a mile from the Rio Grande, store operators were protective of their businesses and their clients' privacy. Signs prohibiting photos were often posted at the entrance, a reminder that the stigma of shopping for discarded clothes persists. Some people hid their faces in the piles of clothing, and some avoided eye contact.

But others, like the longtime ropa usada shopper Angelica Gallardo, 64, felt there was no shame in struggling to make ends meet and doing the best you could to clothe your growing clan. Ms. Gallardo spends hours at a time meticulously inspecting an endless heap of potential purchases. "You have to dig in!" she said.

Ms. Gallardo, who said she has been shopping at ropa usada outlets since the 1970s, has developed a keen eye for "the good stuff" from the "pila" — the pile.
For the full story, see:
Edgar Sandoval. "In Texas, Clothes by the Pound to Make Ends Meet." The New York Times, First Section (Sunday, April 10, 2022): 18.
(Note: ellipses added.)
(Note: the online version of the story has the same date as the print version, and has the title "On the Border, Buying Clothes by the Pound at Ropa Usada Shops.")