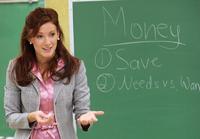 Molly McGrath. Soure of photo: online version of the Omaha World-Herald article cited below.
Molly was one of our Research Assistants last year in the UNO economics department:
(p. 1D) Miss Nebraska Molly McGrath has driven more than 25,000 miles since being crowned in June, mostly to schools as she talks about personal finance issues like avoiding debt and using money as a tool to realize dreams.

"There is a drastic need for economic and financial education with all people, but especially in low-income communities and especially among our youth," McGrath told about a dozen people at a recent meeting of the Rotary Club of Omaha-North.

McGrath knows about making ends meet. Her parents could not help her pay for college, so she has used more than $20,000 in scholarships won through the Miss America program. She also cleaned toilets, dorm rooms and apartments as she earned her undergraduate degree at New York University in New York.

"I was known right away at NYU as the girl from Nebraska," McGrath said. "And after I started this cleaning business I was known as the girl from Nebraska who cleans toilets."
For the full story, see:
JOE RUFF. "Miss Nebraska teaches dollars and sense." Omaha World-Herald (Monday, February 26, 2007): 1D & 2D.