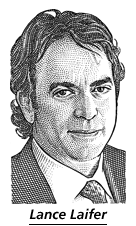 Connecticut hedge-fund trader, and malaria-fighting activist and philanthropist. Source of image: online version of the WSJ article cited below.
Inside of a year, and working with George Ayittey of the Free Africa Foundation, Mr. Laifer's efforts have spawned five "malaria-free zones" in Ghana, Nigeria and Kenya. Expansion to Ivory Coast and Benin is in the works. He adds that he has the financing to roll out additional zones this year but — ever the searcher — first wants to assess what's working and what isn't. If all is going well, "next year I see us doing something like 100 villages."

Mr. Laifer says a future focus will also be DDT, the pesticide used by Americans and Europeans in the 1940s to win domestic fights against malarial mosquitoes. Indoor spraying of DDT is by far the cheapest and most effective way to control the disease. One South Africa province employing DDT saw malaria infections and deaths drop 96% over a three-year span.

Yet Rachel Carson-inspired environmentalists have convinced many public health agencies that the chemical is dangerous. African nations, fearful that lucrative European and U.S. markets might ban their agricultural exports, make do with less-effective DDT substitutes. Though DDT, like any chemical, can be harmful in high doses, there's no evidence that using it in the amounts needed to combat malaria has any ill-effect whatsoever on humans.

Mr. Laifer's been unable to spray DDT in any of his malaria-free zones. "It's the best thing in our arsenal," he says. "We have a prodigious supply, it's cheap and we know it works. Our world leaders need to legalize DDT, and people in America need to get mad about this. . . . We need to have people walking around with signs that say, 'DDT saves lives, environmentalists take lives.'"
For the full commentary, see:
JASON L. RILEY. "Malaria's Toll." Wall Street Journal (Mon., August 21, 2006): A11.
(Note: the ellipsis is in the original.)