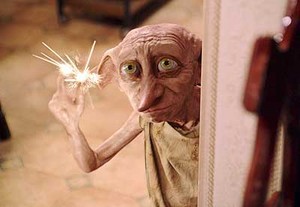 Source of image: Warner Brothers photo posted at: http://www.newsday.com/features/booksmags/sns-potter-movie-jpg,0,7776280.photogallery?coll=ny-homepage-bigpix2005
You can't make a long and complex novel into a movie, even a long movie, without cutting and simplifying. Harry Potter and the Goblet of Fire is a good movie, but not as good as the book. Much has been said of the movie's dark side. The book had a dark side too, but what is missing from the movie is a key element of the book's light side: Dobby, the rascally, loyal, house-elf with the mismatched socks. For those who have seen the movie, without having read the book, here is one of my favorite (albeit serious) Dobby passages:
"Dobby has traveled the country for two whole years, sir, trying to find work!" Dobby squeaked. "But Dobby hasn't found work, sir, because Dobby wants paying now!"
The house-elves all around the kitchen, who had been listening and watching with interest, all looked away at these words, as though Dobby had said something rude and embarrassing. Hermione, however, said, "Good for you, Dobby!"
"Thank you, miss!" said Dobby, grinning toothily at her. "But most wizards doesn't want a house-elf who wants paying, miss. 'That's not the point of a house-elf,' they says, and they slammed the door in Dobby's face! Dobby likes work, but he wants to wear clothes and he wants to be paid, Harry Potter. . . . Dobby likes being free!" (p. 378; ellipsis in original)
Rowling, J.K. Harry Potter and the Goblet of Fire (Book 4). New York: Arthur A. Levine Books, 2000.