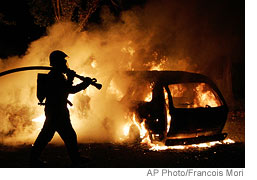 Source of photo: WSJ online version of article quoted and cited below.
The French rioters face very high unemployment. French restrictions on the labor market, and the economy more generally, cause the high unemployment. For example, the French make it hard for firms to fire employees, so as a result, firms are more reluctant to hire workers in the first place, resulting in higher unemployment. Although they do not know it, the rioters are rioting because France is closed to creative destruction. The following commentary is on point:
(p. A16) Like other Americans, immigrants often dramatically improve their quality of life and economic prospects by moving out to less dense, faster growing areas. They can also take advantage of more business-friendly government. Perhaps the most extreme case is Houston, a low-cost, low-tax haven where immigrant entrepreneurship has exploded in recent decades. Much of this has taken place in the city itself. Looser regulations and a lack of zoning lower land and rental costs, providing opportunities to build businesses and acquire property.

It is almost inconceivable to see such flowerings of ethnic entrepreneurship in Continental Europe. Economic and regulatory policy plays a central role in stifling enterprise. Heavy-handed central planning tends to make property markets expensive and difficult to penetrate. Add to this an overall regulatory regime that makes it hard for small business to start or expand, and you have a recipe for economic stagnation and social turmoil. What would help France most now would be to stimulate economic growth and lessen onerous regulation. Most critically, this would also open up entrepreneurial and employment opportunity for those now suffering more of a nightmare of closed options than anything resembling a European dream.
For the full commentary, see:
Joel Kotkin. "Our Immigrants, Their Immigrants." The Wall Street Journal (November 8, 2005): A16.