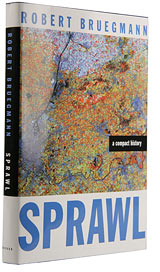 Image source: web version of WSJ article quoted and cited below.
(p. P16) For at least half a century, academics, aesthetes and all-purpose agonizers have looked at our ever-sprawling cities with disdain and even horror. The spectacle of rings and rings of humankind nested in single-family homes has inspired in them all sorts of revulsion and, relatedly, a whole discipline of blame: Suburban sprawl has been faulted for exacerbating racial tension, contributing to energy shortages, worsening pollution and heating up the globe — even expanding waistlines.

Largely missing from this debate has been a sound and reasoned history of this pattern of living. With Robert Bruegmann's "Sprawl: A Compact History," we now have one. What a pleasure it is: well-written, accessible and eager to challenge the current cant about sprawl.
No, Mr. Bruegmann says, don't go blaming the Federal Highway Administration for sprawl or the executives at General Motors and Exxon or racist developers fleeing urban environments. Don't even blame Karl Rove. You really don't need to blame anyone. Mr. Bruegmann notes that contemporary sprawl — best defined by places like Los Angeles, Phoenix and Houston — is nothing new. It represents "merely the latest chapter in a long and curious history."
What propels that curious history is something often overlooked by the makers of grand theories — the particular choices of individual human beings. Mr. Bruegmann places the urge to sprawl squarely where it belongs: on people's logical desire to escape the high costs, crime, pollution, congestion and lack of privacy that accompanies life in dense cities.
For the full review, read:
JOEL KOTKIN. "In Praise of 'Burbs. Academics, planners and tastemakers may vilify suburbia as an American blight. But even the Romans knew: It can be nice to get out of the city." The Wall Street Journal (Sat., December 10, 2005): P16.
The book that Kotkin's review is praising:
Robert Bruegmann. Sprawl: A Compact History. Chicago: University of Chicago Press, 2005. (264 pages, $27.50)