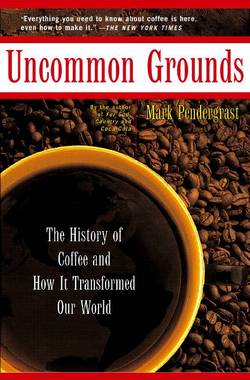 The source for the image of the book is: http://nasw.org/users/markp/grounds.html
One theory of how countries acquire a comparative advantage in a commodity ties the comparative advantage to some natural resource, climate or other "endowment" advantage the country has. This partially 'explains' some comparative advantages, but leaves many others unexplained (like why Japan has a comparative advantage in cars).
But even on the endowment theory's own terms, it would seem that an initial comparative advantage can be squandered. Consider Ethiopia, which is the country in which coffee beans were first discovered, many centuries ago.
(p. 153) . . . Ethiopia, the birthplace of coffee, now exported a negligible amount of the bean, largely due to graft and corruption extending from King Menelik down to the country's customs agents, . . .
(King Menelek II ruled Ethiopia from 1889 until his death in 1911.)
The quotation is from:
Pendergrast, Mark. Uncommon Grounds: The History of Coffee and How It Transformed Our World. New York: Basic Books, 2000.