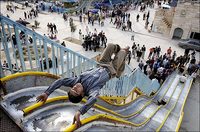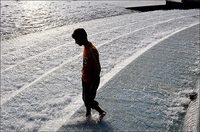 The photos are by Ashley Gilberston, and the source was the online version of the article cited below.
The American invasion has been a bittersweet episode in the lives of many Iraqis here. In two afternoons of interviews in the parks this week, with both Shiites and Sunnis, mostly secular working people, they said the dangers that had shrunk their lives in certain ways had come along with new advantages.
Hind Jabr, a 16-year-old in a head scarf with bangles on her wrists, spoke proudly of the red Toyota her parents bought used two years ago. The salaries of her mother, a teacher, and her father, a police officer, have jumped since 2003. "We were suffering under Saddam," said Ms. Jabr, sitting on a stone ledge that overlooked the lake. "It was safer, but we couldn't get things."
. . .
For Mr. Sadiq, there was a lesson in the day's serenity. "Don't focus on these bombs – they will end definitely," he said. "What's most important now is that Iraqis feel comfortable inside themselves. Now we feel free."
For the full article, see:
SABRINA TAVERNISE. "In a City of Mayhem, a Respite in the Park." THE NEW YORK TIMES (Fri., January 13, 2006): A4.