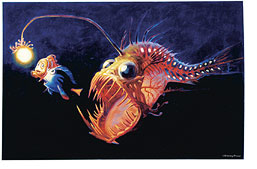 Schumpeter once wrote that "We all of us like a sparkling error better than a trivial truth."
This image reminds me of the prudence of adopting a healthy scepticism toward the "sparkling error."
I believe that the image from Finding Nemo is by computer graphics artist Randy Berrett. The source of the image is the online version of Joe Morgenstern. "MORGENSTERN ON MOVIES: Finding Pixar; A new exhibit examines a studio that can't stop examining itself." The Wall Street Journal (Sun., January 7, 2006): P11.
The "sparkling error" Schumpeter quote is from Schumpeter's diary, and is quoted in: Swedberg, Richard. Schumpeter: A Biography. Princeton, NJ: Princeton University Press, 1991, aphorism 86, on page 205.