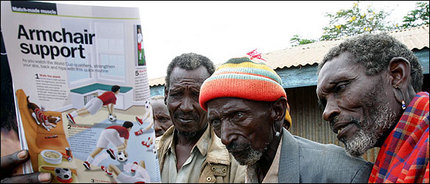 Researcher asks Kenyans their reaction to a Western men's health magazine. Image source: online version of article cited below.
(p. 1) LEWOGOSO LUKUMAI, Kenya – The rugged souls living in this remote desert enclave have been poked, pinched and plucked, all in the name of science. It is not always easy, they say, to be the subject of a human experiment.
. . .
(p. 6) Over the years, the Ariaal have had hairs pulled not just from their heads, but also chins and chests. They have spat into vials to provide saliva samples. They have been quizzed about how often they urinate. Sometimes the questioning has become even more intimate.
Mr. Garawale recalls a visiting anthropologist measuring his arms, back and stomach with an odd contraption and then asking him how often he got erections and whether his sex life was satisfactory. " It was so embarrassing," recalled the father of three, breaking out in giggles even years later.
Not all African tribes are as welcoming to researchers, even those with the necessary permits from government bureaucrats. But the Ariaal have a reputation for cooperating — in exchange, that is, for pocket money.
. . .
The Ariaal have no major gripes about the studies, although the local chief in Songa, Stephen Lesseren, who wore a Boston University T-shirt the other day, said he wished their work would lead to more tangible benefits for his people.
"We don't mind helping people get their Ph.D.'s," he said. "But once they get their Ph.D.'s, many of them go away. They don't send us their reports. What have we achieved from the plucking of our hair? We want feedback. We want development."
For the full story, see:
MARC LACEY. "Remote and Poked, Anthropology's Dream Tribe." The New York Times, Section 1 (Sun., December 18, 2005): 1 & 6.