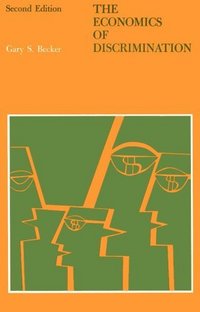 Source of book cover image: Amazon.com.
In his doctoral disseratation on the economics of discrimination, Gary Becker argued that those who discriminate in the labor market pay a price for their prejudice in the form of having to pay higher wages. Those who do not discriminate have open to them an additional pool of workers, whose talents will contribute to the firm's bottom line. GE's Jack Welch recounts a story that supports Becker's claims:
(p. 212) Another idea I'll leave behind is one that developed when I was visiting Japan in the fall of 2000. I had been going there for years and found it difficult to get the best male Japanese graduates (p. 213) to join us. We were having increasing success, but still had a long way to go. Finally, it dawned on me. One of our best opportunities to differentiate GE from Japanese companies was to focus on women. Women were not the preferred hires for Japanese companies, and few had progressed far in their organizations. Again, I got revved up. Fortunately, we had Anne Abaya, an ideal Japanese-speaking U.S. woman in a senior position at GE Capital. She agreed to go to Tokyo to become head of human resources for GE Japan. I gave her a million dollars for an advertising campaign to position GE as "the employer of choice for women. What I didn't know was how much talent we already had in place. In May 2001, when Jeff and I were on a Japanese business trip, we had a private dinner with 14 of our high-potential women. They ranged from CFO of GE Plastics Japan, general manager of sales and marketing of GE Medical Systems Japan, marketing director of GE Consumer Finance Japan, to the heads of human resources for GE-Toshiba Silicones and GE Medical Systems. Jeff and I had never been with a more impressive young crowd. It confirmed for me how big the opportunity could be.
Source:
Welch, Jack. Jack: Straight from the Gut. New York: Warner Business Books, 2001.
For the revised version of Becker's dissertation, see:
Becker, Gary S. The Economics of Discrimination. 2nd Rev. ed., Economic Research Studies. Chicago: University of Chicago Press, 1971.