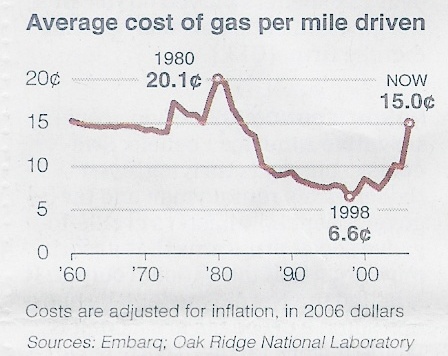 Source of graphic: p. C1 of NYT article cited below.
(p. C1) The price of gasoline is hovering around $3 a gallon, and politicians are falling over each other to pander to voters' gas fears. In a recent Gallup Poll, 70 percent of people said they favored price controls, a relic of Richard Nixon's day.

But it's time to take a deep breath and consider a radical fact: gas still isn't all that expensive. I'm not just talking about the disparity between prices here and in Europe, where gas taxes are much higher. What really matters to people is the cost of the gas that is needed to drive a mile, a function of both the price of oil and the fuel efficiency of cars.

By this measure, gas for the average American now costs about what it did throughout the 1960's and early 70's and much less than in the early 80's. The 1990's, in other words, were the big exception.
For the full commentary, see:
David Leonhardt. "The High Costs of Cheap Gas and Vice Versa." The New York Times (Weds., May 10, 2006): C1 & C11.