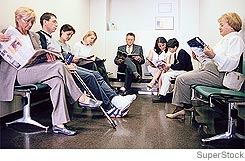 Source of image: http://online.wsj.com/article/SB114540135592529301.html?mod=home_personal_journal_middle
(p. D1) The dysfunctional doctor's office is getting a makeover.

A growing number of programs around the country are helping doctors redesign their offices to wring more profit out of their practices and fix problems that have long frustrated patients: weeks-long delays to get appointments, hours in the waiting room, too-brief visits with the doctor, and the near impossibility of getting the physician on the phone. While the goal is to improve care, the programs also aim to avert a looming shortage of primary-care doctors who are frustrated with low pay, long hours and rising overhead costs.

The new programs borrow lessons from other industries to help doctors work more efficiently, especially those in solo and small group practices who account for the majority of outpatient office visits. One approach employs calculations used by airlines, hotels and restaurants to predict demand: The idea is that doctors can cut patient waits much the way restaurant chains seat diners and turn over tables efficiently. Others involve relatively simple changes, such as leaving afternoon appointments open for urgent visits, or having patients fill out paperwork ahead of time online.

Managed-care giant Kaiser Permanente is launching a program to help 12,000 doctors that contract with its health plan increase their efficiency with a new electronic-medical-records system. Portland, Ore., physician Chuck Kilo, whose GreenField Health Systems helps restructure medical practices, and is assisting with the program, says that too many doctors' appointments take up valuable office time with follow-up that could be accomplished with phone calls and email.

Other models involve more-radical change, such as one called "Ideal Micro Practice" that sharply reduces or even eliminates support staff. With this blueprint, doctors rely on electronic health records and practice-management software to quickly dispense with administrative tasks. And they may run their offices solo, greeting patients personally as they come in the door.

"The office practice hasn't changed much in 50 years," says John Wasson, a Dartmouth Medical School professor and practice redesign expert who is helping to launch a national program to expand the Micro Practice concept. "This is a disruptive innovation that can lead to increased quality and reduced costs."
For the full story, see:
LAURA LANDRO. "Cutting Waits at the Doctor's Office; New Programs Reorganize Practices to Be More Efficient; Applying 'Queuing Theory'." The Wall Street Journal (Weds., April 19, 2006): D1 & D3.
Source of graphic: http://online.wsj.com/article/SB114540135592529301.html?mod=home_personal_journal_middle