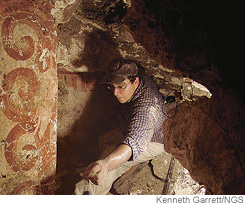 Upper left is retired banker Leon Reinhart. Lower right is Bill Saturno, who's archeology dig is being funded by Reinhart. Source of photos: online version of WSJ article cited below.
(p. P1) NORTHERN GUATEMALA — Aboard a small helicopter crossing a seemingly endless rainforest, Leon Reinhart is describing our destination, the San Bartolo archaeological site. "We are uncovering the oldest-known Maya murals and the oldest writing anyone has ever found in the Americas," he says.

Mr. Reinhart isn't an archaeologist. He isn't an academic. He is a retired banker.

In providing funding for the excavation at San Bartolo, Mr. Reinhart is one of a growing number of bankers, entrepreneurs and philanthropists who are playing a crucial role in archaeology. They are providing millions of dollars to study and preserve the relics of ancient civilizations from Latin America to Italy and Turkey, giving life to projects that would otherwise die.

. . .

(p. P4) Among the other members of the new generation of benefactors is Charles Williams II, himself an archaeologist. He directed the enormous excavation project in Corinth and has supported projects in Sicily and at Gordia in Turkey, where Alexander cut the Gordian knot. Through his foundation, David Packard, son of the Hewlett-Packard founder, financed the work at Zeugma in southwest Turkey that rescued a large number of mosaics just before they were submerged by a new dam. And a foundation created by Artemis Joukowsky, the former chancellor of Brown University, is funding conservation work at the Great Temple of Petra in Jordan.

Mr. Reinhart learned about San Bartolo thanks to the efforts of an investment banker, Lewis S. Ranieri, who pioneered the mortgage-securities market at Salomon Brothers in the 1980s and now is chairman of CA, the information-technology concern formerly known as Computer Associates. Mr. Ranieri created the Foundation for the Advancement of Mesoamerican Studies, or Famsi, devoted to archaeology.

On Famsi's Web site, Mr. Reinhart read an article about San Bartolo written by Bill Saturno, the young archaeologist who literally stumbled across the ruin in 2001. Entering a tunnel cut by looters, he immediately understood that the paintings were much older than previously discovered Mayan murals with such complicated iconography.

Fascinated by Mr. Saturno's article, Mr. Reinhart sent him an email. Because the project had received grants from Famsi and the National Geographic Society, Mr. Reinhart assumed it was fully funded; he soon learned that wasn't the case. Mr. Saturno was borrowing on his personal credit card to keep the work going. Mr. Reinhart agreed to cover most of the needed funds — a sum that has now crossed the $1 million mark. (Among this year's expenses: $65,000 for stabilizing the murals and $18,700 in food.)
For the full story, see:
G. BRUCE KNECHT. "Culture; The Rich Dig Deep: Archaeology's New Players; As traditional funds for excavations fall short, wealthy benefactors are bolstering the hunt for antiquities." The Wall Street Journal (Sat., May 13, 2006): P1 & P4.
(Note: ellipses added.)