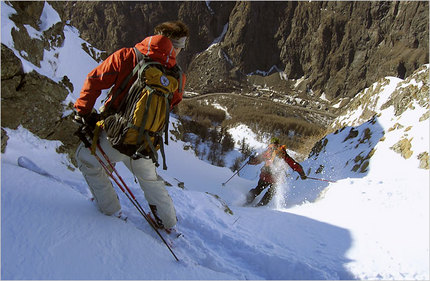 Coombs and VanderHam on the April 3, 2006 extreme ski run, in which they both died. Source of caption information, and of photo: online version of the first NYT article cited below.
Some seem to seek risk:
(p. A1) "La Grave goes from tranquil to frightening and mad, and it's so exhilarating to be in those moods," Mrs. Coombs said in a telephone interview last week. Her husband, she said, "never found anything more perfect."

Last month, Mr. Coombs slipped off a cliff and fell 490 feet to his death. He was 48. He was trying to rescue Chad VanderHam, his 31-year-old protégé and skiing partner from the United States. Mr. VanderHam had gone over the same cliff moments earlier. He also died.

Their accident, during a recreational outing, has focused attention on extreme skiing and on this remote destination, high in the Alps about 50 miles east of Grenoble.
For the full story, see:
NATHANIEL VINTON. "Skiing Beyond Safety's Edge Once Too Often." The New York Times (Wednesday, May 17, 2006): A1 & C23.
Others seem to fear risk:
PARIS, April 8 – Standing amid the chaos of the protests here this week, Omar Sylla, 22, tried to explain why the French are so angry about what seems to many people like such a small thing: the French government's attempt to loosen labor laws a bit by allowing employers the right to fire young workers without cause during a trial period on the job.

Even after President Jacques Chirac promised to shorten the period to one year from two, the protests continued, and French students and unions have vowed to keep demonstrating until the law is repealed.

"We need less precariousness, not more," said Mr. Sylla, the son of immigrants from Ivory Coast, who still lives with his parents in a government-subsidized apartment in a working-class suburb of Paris.

Mr. Sylla said he had searched for years for a job before finding work about a month ago as a baggage handler at Charles de Gaulle International Airport. Even then, he said, he only got the job because his sister works at the airport and pulled strings on his behalf.
For the full story, see:
CRAIG S. SMITH. "French Unrest Reflects Old Faith in Quasi-Socialist Ideals." The New York Times, Section 1 (Sunday, April 9, 2006): 8.
Economists have long puzzled at how the same person can both buy insurance and gamble in a casino. The first seems an act of risk-aversion, and the second of risk-seeking. (Milton Friedman, and others, have tried to explain the paradox.)
But I am puzzled by something else. When risks are taken, why are they so often taken in arenas such as rioting in the streets, or extreme skiing, where they achieve no noble purpose? Whatever risks one is going to take, why not take them in the arena of innovation and entrepreneurship, where the potential benefits to the innovator and to human progress, are huge?