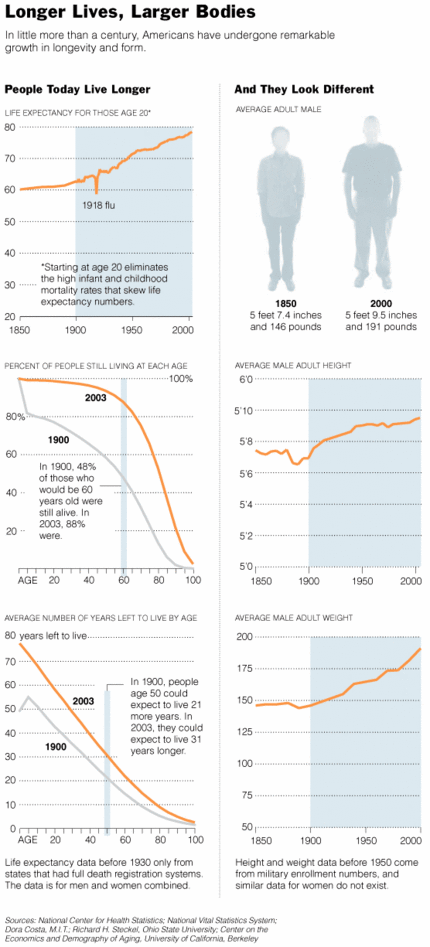 Source of graphic: online version of the NYT article cited below.
(p. 1) New research from around the world has begun to reveal a picture of humans today that is so different from what it was in the past that scientists say they are startled. Over the past 100 years, says one researcher, Robert W. Fogel of the University of Chicago, humans in the industrialized world have undergone "a form of evolution that is unique not only to humankind, but unique among the 7,000 or so generations of humans who have ever inhabited the earth."

. . .

(p. 19) . . . stressful occupations added to the burden on the body.

People would work until they died or were so disabled that they could not continue, Dr. Fogel said. "In 1890, nearly everyone died on the job, and if they lived long enough not to die on the job, the average age of retirement was 85," he said. Now the average age is 62.

A century ago, most people were farmers, laborers or artisans who were exposed constantly to dust and fumes, Dr. Costa said. "I think there is just this long-term scarring."

Source of graphic: online version of the NYT article cited above.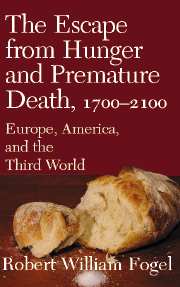 Source of graphic: online version of the
NYT
article cited above. Source of book image:
http://www.cambridge.org/us/catalogue/catalogue.asp?isbn=0521808782
Fogel's book is a primary academic source for much of what is interesting in the New York Times article. Fogel predicts that if we don't screw things up, half of today's college students will live to be 100. He shows that academics in the past have consistently and significantly underestimated the maximum lifespans that would be attainable in the future.
The full reference for the Fogel book is:
Fogel, Robert William. The Escape from Hunger and Premature Death, 1700-2100, Cambridge Studies in Population, Economy and Society in Past Time. Cambridge, UK: Cambridge University Press, 2004.