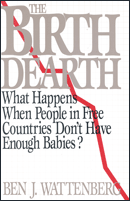 Source of book image: http://www.aei.org/books/bookID.497,filter.all/book_detail.asp
Ben Wattenberg had already been predicting a world population decline for years, when he published The Birth Dearth in 1987. Back then, scepticism was widespread. Governments and philanthropists spent billions promoting birth control to restrain population growth. Many were still convinced of the wisdom of Isaac Ehrlich, darling of the environmentalist enemies of economic growth, who had predicted disaster in his Population Bomb.
(Note that the plausibility of many environmentalist disaster scenerios is based on the assumption of continuous population growth.)
The current decline in birth rates is not a total puzzle. Nobel-prize winner Gary Becker long-ago claimed that quality of children is what economists call a 'normal' good, which means that families invest more in quality as their incomes rise. As families invest more in quality, they invest less in quantity.
Whatever the reasons, the evidence continues to accumulate that Wattenberg was right:
After a long decline, birthrates in European countries have reached a historic low, as potential parents increasingly opt for few or no children. European women, better educated and integrated into the labor market than ever before, say there is no time for motherhood and that children are too expensive anyway.

The result is a continent of lopsided societies where the number of elderly increasingly exceeds the number of young — a demographic pattern that is straining pension plans and depleting the work force in many countries.
For the full story, see:
ELISABETH ROSENTHAL. "European Union's Plunging Birthrates Spread Eastward." The New York Times (Mon., September 4, 2006): A3.

Source of graphic: online version of the NYT article cited above.