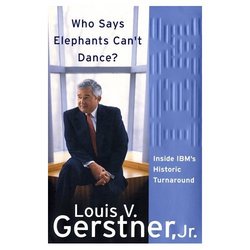 Source of book image: http://ec1.images-amazon.com/images/P/0060523794.01._SS500_SCLZZZZZZZ_V1122531345_.jpg
Gerstner is known for turning around IBM, when many business experts thought it was headed down the tubes. His book is useful as a report on what happened at IBM during his time as CEO, and also has some more broadly applicable observations. I'll mention a few of these in this and a few other postings in the next couple of weeks.
It is interesting how many successful and important business leaders and experts have spent some time associated with the McKinsey consulting group, where Gerstner started his career. One major McKinsey figure, Richard Foster, is a strong advocate and elaborator of Schumpeter's process of creative destruction.
I wonder if perhaps some of the success of McKinsey is due to the firm's embracing and applying Schumpeter's ideas?
Those who oppose creative destruction emphasize the destructive effect that the process has on some workers. In fact the effects on labor are seen by many (e.g., Thomas Friedman) who are otherwise sympathetic, to be the major drawback of the process. As a result some of them (e.g., Thomas Friedman) propose paternalistic 'safety net' labor policies.
We usually think of government as the main implementer of such policies, but among firms, IBM's labor policies were among the most paternalistic. This is usually viewed as one of the positives about IBM. But one of Gerstner's insights is to suggest that some of those in the IBM work force were hurt by IBM's paternalistic policies:
(p. 186) . . . I came to feel that the real problem was not that employees felt they were entitled. They had just become accustomed to immunity from things like recessions, price wars, and technology changes. And for the most part, they didn't even realize that this self-contained, insulated system also worked against them. I was shocked, for instance, to discover the pay disparities—particularly in very important technical and sales professions—of IBM comployess when comapred to the competition and the industry in general. Our best people weren't getting what they deserved.
Maybe I should mention that I don't endorse everything in the book. For example, Gerstner seems to think that a desire to "win" is crucial to success in business. But I think the analogy between business and competitive sports is usually taken too far. Can't one also succeed in business from a desire to innovate and to improve the world?
The reference on the book is:
Gerstner, Louis V., Jr. Who Says Elephants Can't Dance? Leading a Great Enterprise through Dramatic Change. New York: HarperCollins, 2002.
(Note: in the quote, the ellipsis was added, but the italics was in the original.)