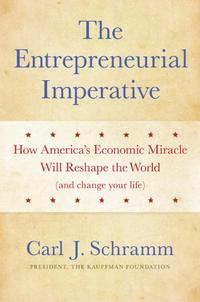 Source of book image: http://www.harpercollins.com/harperimages/isbn/large/8/9780060841638.jpg
At lunchtime today (11/27/06) I heard part of a C-Span broadcast of a Heritage Foundation event in which Carl J. Schramm gave a presentation based on his new book (see above). It sounded as though Schramm has some useful thoughts about the impact of entrepreneurship, and on how the institutions of higher education are very unentrepreneurial.
I smiled when Schramm mentioned that George W. Bush had once said that: "The problem with the French is that they don't know the meaning of the word "entrepreneur." To those who don't "get" the joke: it is another of those Bush-is-stupid jokes, based on the word "entrepreneur" being of French origins.
A web site devoted to "urban legends" identifies the Bush quote as one of these legends:
Yet another "George W. Bush is dumb" story has been taken up by those who like their caricatures drawn in stark, bold lines. According to scuttlebutt that emerged in the British press in July 2002, President Bush, Britain's Prime Minister Tony Blair, and France's President Jacques Chirac were discussing economics and, in particular, the decline of the French economy. "The problem with the French," Bush afterwards confided in Blair, "is that they don't have a word for entrepreneur."

The source was Shirley Williams, also known as the Baroness Williams of Crosby, who claimed "my good friend Tony Blair" had recently regaled her with this anecdote in Brighton.

Lloyd Grove of The Washington Post was unable to reach Baroness Williams to gain her confirmation of the tale, but he did receive a call from Alastair Campbell, Blair's director of communications and strategy. "I can tell you that the prime minister never heard George Bush say that, and he certainly never told Shirley Williams that President Bush did say it," Campbell told The Post. "If she put this in a speech, it must have been a joke."
The main reference relied on by the Urban Legend web site for this entry, was:
Grove, Lloyd. "The Reliable Source." The Washington Post. 10 July 2002 (p. C3).
The most obvious interpretation of the joke is that it is ridiculing W. But, more subtly, it could be taken to be giving just a bit of a jab to the French too. (Just because the French invented the word, doesn't mean that they couldn't have forgotten its meaning, through lack of use.)
The reference on the Schramm book is:
Schramm, Carl J. The Entrepreneurial Imperative: How America's Economic Miracle Will Reshape the World (and Change Your Life). New York: Collins, 2006.