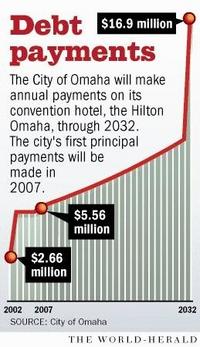 Source of graphic: online version of the Omaha World-Herald article cited below.
When an entrepreneur takes a risk, she risks losing her own money; when the government takes a risk, it risks losing your money:
(p. 1A) Omaha taxpayers escaped paying for the Hilton Omaha this year, but they likely will have to come up with the money for some big bills before the hotel is paid off in 2032.

In April, city officials were almost euphoric. They announced the city-owned convention hotel performed well enough that its owners, the taxpayers, wouldn't have to pony up the money to make the debt payments on the hotel this year.

But a recent audit of city finances reveals a much gloomier financial picture.

The audit raises questions about how the hotel that is connected to the Qwest Center Omaha will generate enough money to maintain its upscale look in the years to come. The report also causes city officials to doubt whether expanding the hotel is realistic in the near future.

The Hilton's troubles come at the same time that five other hotels are proposed for downtown Omaha. But those are not full-service, amenity-rich convention hotels that are costly to build and maintain.

Hilton Omaha mainly competes in a national market for convention business, and like Omaha as a whole, the Hilton has (p. 4A) found the convention market tougher than it expected.

Omaha borrowed nearly $103 million to build, equip and finance the state's largest and fanciest hotel.

Before the 450-room hotel opened in April 2004, the city projected net revenues would be $8.4 million in 2005.

But net revenues last year totaled just $4.6 million, according to the audit conducted for the city by KPMG.
For the full story, see:
C. DAVID KOTOK. "Taxpayers Likely to Pay Hilton Bills." Omaha World-Herald (Sunday, November 19, 2006): 1A & 4A.
(Note: The online version has a slightly different title: "Taxpayer to get handed Hilton bills.")