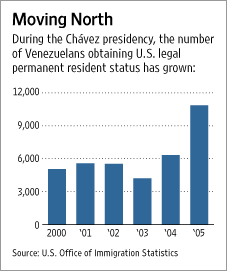 Source of graphic: online version of the WSJ article quoted and cited below.
(p. A10) CARACAS, Venezuela — Oil-rich Venezuela has experienced the kind of economic boom in recent years that should be flush with job opportunities. But an increasing number of professionals, many of them from the oil industry, are looking abroad for work, driven away by President Hugo Chávez's effort to extend state control over the economy, and by inflation verging on 20%.

Since his re-election in December, Mr. Chávez has pursued an agenda of "21st Century Socialism," painting a future of "communal cities" and state-run cooperatives dedicated to production, not profit.

. . .

Still, at the U.S. Embassy call center for visas in Caracas, the lines have been jammed since Mr. Chávez announced in early January the nationalization of the electricity industry and Venezuela's largest telecommunications firm. "It doubled practically overnight," said a U.S. diplomat.

The number of Venezuelans receiving U.S. legal permanent residence more than doubled from 2000 to 2005, when 10,870 got their green cards. In that period the overall number of green cards increased by a third. During that period the number of Venezuelan-born U.S. residents increased 42%, to 151,743, according to the U.S. Census Bureau.

. . .

Any opposition-minded oil workers still left at PdVSA face a difficult environment. During the presidential campaign last year, PdVSA President Rafael Ramirez told company executives to join Mr. Chávez's political movement or hit the road. In 2003, Mr. Chávez sacked around 20,000 PdVSA staffers — about half the company's work force — for walking off the job, calling them "terrorists." A majority of them were the managers, accountants and field engineers who turned the state oil venture into a world-class oil company during a period of robust expansion in the 1990s.

Many found work elsewhere, including in Mexico, Canada and Saudi Arabia, at a time of high demand for experienced oil workers.

The lost expertise has taken a toll on PdVSA, the country's largest single employer. Its share of the global market for crude oil supply is shrinking, and accidents and outages are on the rise. Analysts say the cost to PdVSA of producing a barrel of oil has nearly doubled in the past five years to more than $4.50.
For the full story, see:
PETER MILLARD. "Professionals Exit Venezuela; Chávez's Grip on Power Drives Out Oil Experts; Support Hugo or You Go." The Wall Street Journal (Thurs., February 15, 2007): A10.
(Note: ellipses added.)