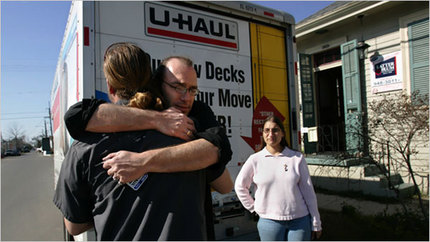 Dylan Langlois (facing camera) and his fiancé Kasandra Larsen telling a friend goodbye before they leave New Orleans. Source of photo: online version of the NYT article cited below.
NEW ORLEANS, Feb. 15 — After nearly a decade in the city of their dreams, Kasandra Larsen and her fiancé, Dylan Langlois, climbed into a rented moving truck on Marais Street last Sunday, pointed it toward New Hampshire, and said goodbye.

Not because of some great betrayal — they had, after all, come back after losing everything in Hurricane Katrina — but a series of escalating indignities: the attempted carjacking of a pregnant friend; the announced move to Nashville by Ms. Larsen's employer; the human feces deposited on their roof by, they suspect, the contractors next door; the two burglaries in the space of a week; and, not least, the overnight wait for the police to respond.

A year ago, Ms. Larsen, 36, and Mr. Langlois, 37, were hopeful New Orleanians eager to rebuild and improve the city they adored. But now they have joined hundreds of the city's best and brightest who, as if finally acknowledging a lover's destructive impulses, have made the wrenching decision to leave at a time when the population is supposed to be rebounding.

Their reasons include high crime, high rents, soaring insurance premiums and what many call a lack of leadership, competence, money and progress. In other words: yes, it is still bad down here. But more damning is what many of them describe as a dissipating sense of possibility, a dwindling chance at redemption for a great city that, even before the storm, cried out for great improvement.
For the full story, see:
SHAILA DEWAN. "Fed-Up New Orleans Residents Are Giving Up." The New York Times (Fri., February 16, 2007): A1 & A17.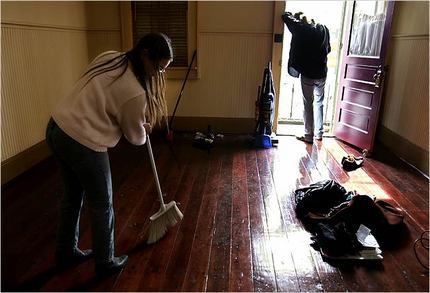 Kasandra Larsen cleans up before she and Dylan Langlois depart New Orleans. Source of photo: online version of the NYT article cited above.