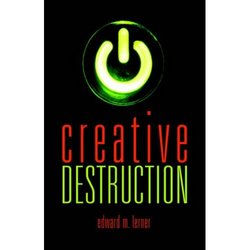 Source of book image: http://ec1.images-amazon.com/images/P/0809557487.01._SS500_SCLZZZZZZZ_V38973347_.jpg
There's a new collection of science fiction stories entitled Creative Destruction (after one of the main stories in the collection that is also entitled "Creative Destruction"). I have not read the book, but used to enjoy reading science fiction, and hope to have a look before too long.
I welcome comments from anyone who has read the book. Does Schumpeter get a mention?
The reference to the book is:
Lerner, Edward M. Creative Destruction. Rockville, MD: Wildside Press, 2006.