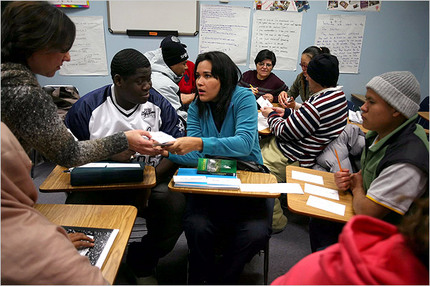 In Mount Vernon, New York, Maria de Oliveira (center) waited three months for an opening in this English class. Source of photo: online version of the NYT article quoted and cited below.
In the United States, other things equal, those who speak English earn more than those who do not. So there is a substantial incentive for immigrants to learn English, even in the absence of the much-debated proposed laws to mandate English in various ways. Consider the evidence in the article excerpted below:
(p. A1) MOUNT VERNON, N.Y. — Two weeks after she moved here from her native Brazil, Maria de Oliveira signed up for free English classes at a squat storefront in this working-class suburb, figuring that with an associate's degree and three years as an administrative assistant, she could find a good job in America so long as she spoke the language.

The woman who runs the classes at Mount Vernon's Workforce and Career Preparation Center added Ms. Oliveira's name to her pink binder, at the bottom of a 90-person waiting list that stretched across seven pages. That was in October. Ms. Oliveira, 26, finally got a seat in the class on Jan. 16.

"I keep wondering how much more I'd know if I hadn't had to wait so long," she said in Portuguese.

. . .

Luis Sanchez, 47, a Peruvian truck driver for a beer distributor in New Brunswick, has been in this country (p. C14) 10 years — and on the waiting list for English classes in Perth Amboy five months. "You live from day to day, waiting to get the call that you can come to class," Mr. Sanchez said in Spanish, explaining that he knew a little English but wanted to improve his writing skills so he could apply for better jobs. "I keep on waiting."

. . .

In Newburgh, N.Y., an Orange County town where one in five of the 29,000 residents are immigrants, Blanca Saravia has amassed an impressive portfolio of odd jobs since arriving from Honduras in 2004: gas station attendant, office janitor, cook's helper, and, for the last 14 months, packager at a local nail-polish factory. Speaking in her native Spanish, Ms. Saravia said that she has been able to get by with co-workers' translating, but that "when the boss gives orders, I don't understand."

. . .

. . . Ahmed Al Saidi, 49, who works at a gas station and moved from Yemen in 1994, said in halting English that he wants to learn the language "for better work and to talk to people when I go to the store."

Ms. Oliveira, the immigrant from Brazil, said she still knows too little English to venture into the marketplace; her husband, who is American born and supports the couple financially, encouraged her to enroll in the classes, held five mornings a week.

"I hope that when I'm speaking a little better, I'll be able to find a job where I can use the English I learned here and the skills I have from back home," she said in Portuguese. "When I was on the waiting list, there were times I thought this time would never come."
For the full story, see:
FERNANDA SANTOS. "Demand for English Lessons Outstrips Supply." The New York Times (Tues., February 27, 2007): A1 & C14.
(Note: ellipses added.)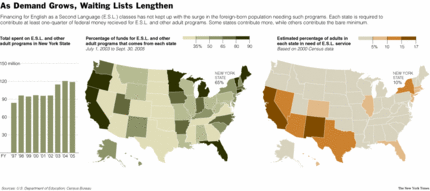 Source of graphic: online version of the NYT article quoted and cited above.