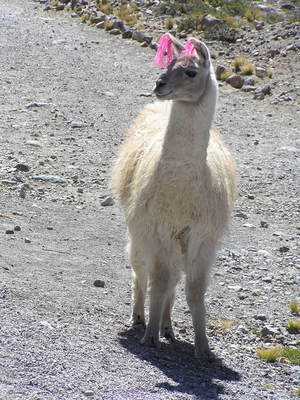 A snow-white llama that has not yet been symbolically sacrificed by Bolivian President Evo Morales. Source of the photo: http://www.staff.stir.ac.uk/f.r.wheater/images/25%20Llama%205_8_04.JPG
Picture it, in President Evo Morales' Bolivia: a peaceful, innocent-looking, snow-white llama slaughtered in homage to a barbaric mystical ritual, and in celebration of the slaughter, through nationalization, of private property and economic growth. And afterwards, one imagines the visitng French brass band played on.
VINTO, Bolivia: The ritual sacrifice of a snow-white llama provided a symbolic completion Friday to President Evo Morales' nationalization of Bolivia's lone operating tin smelter.

Swiss mining giant Glencore International AG owned the plant until last week and has threatened to seek compensation through international arbitration. Morales still says his government will not compensate Glencore for the Feb. 9 nationalization of the Vinto plant, located on a high Andean plain 180 kilometers (110 miles) southeast of the capital of La Paz.

. . .

After the ceremony, Morales hosted plant workers, a troupe of Andean pipers and a visiting French brass band to an outdoor supper of fried chicken and chuno, a traditional Bolivian dish of dehydrated potatoes.

While the nationalization retained all but a handful of smelter employees, workers remained divided over the change in management. Some rushed to greet "Companero Evo" as he toured the plant; others hung back and wondered about the future.

"Anywhere in the world they'll tell you the government can't be a good administrator," said plant employee Oscar Leyton. "But we'll just have to wait and see how they do it. If they screw up here, they'll screw up the whole country."
For the full story, see:
"In Bolivia, llama sacrifice completes Morales' tin smelter nationalization." International Herald Tribune February 16, 2007.
(Note: ellipsis added.)