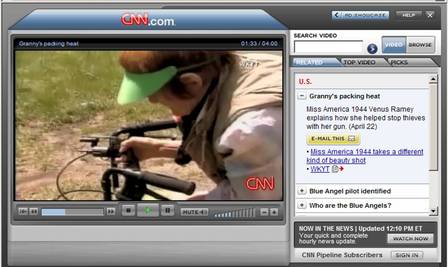 Venus Ramey shows how she balanced her pistol on her walker to shoot out the tires of an intruder on her farm. Source of photo: screen capture from CNN clip "Granny's Packing Heat" as viewed on 4/23/07.
In the wake of the Virginia Tech killings, there have been some renewed calls for more gun control (see the WSJ and NYT articles cited way below). But we should not forget that a gun can also be a leveler; it gives the ordinary citizen a fighting chance against the thief and the murderer.
There was a great scene in the first Indiana Jones movie (Indiana Jones and the Temple of Doom, 1984) where Indy is being chased by a huge bad guy armed with swords. The crowd clears, and the the huge man confidently and ominously twirls his swords. Indy looks at him quizzically for a couple of seconds, pulls out a pistol, and shoots him.
When I first saw that scene, the theater erupted in laughter and applause.
Laughter and applause are also appropriate responses to the story of 82 year old, former Miss America, Venus Ramey:
Miss America 1944 has a talent that likely has never appeared on a beauty pageant stage: She fired a handgun to shoot out a vehicle's tires and stop an intruder. Venus Ramey, 82, confronted a man on her farm in south-central Kentucky last week after she saw her dog run into a storage building where thieves had previously made off with old farm equipment.

Ramey said the man told her he would leave. "I said, 'Oh, no you won't,' and I shot their tires so they couldn't leave," Ramey said.

She had to balance on her walker as she pulled out a snub-nosed .38-caliber handgun.

"I didn't even think twice. I just went and did it," she said. "If they'd even dared come close to me, they'd be 6 feet under by now."
For the full story, see:
Associated Press. "Armed Miss America 1944 Stops Intruder." Forbes.com Posted 04.21.07, 5:00 AM ET Downloaded on 4/23/07 from http://www.forbes.com/feeds/ap/2007/04/21/ap3637737.html
CNN has a great clip on this story, under the heading "Granny's Packing Heat."
The WSJ article mentioned above, is:
VANESSA O'CONNELL, GARY FIELDS and DEAN TREFTZ. "Next Debate: Should Colleges Ban Firearms? The Wall Street Journal (Weds., April 18, 2007): B1 & B10.
The NYT article mentioned above, is:
LESLIE EATON and MICHAEL LUO. "Shooting Rekindles Issues of Gun Rights and Restrictions." The New York Times (Weds., April 18, 2007): A19.