In Hargeysa, the capital of Somaliland, there is sufficient public safety (in contrast to southern Somalia) for a money exchange to operate with large amounts of money on display. Source of photo: online version of the NYT article cited below.
HARGEYSA, Somalia, March 1 — When the sun rises over the craggy hills of Hargeysa, it sheds light on a different kind of Somalia.

Ice cream trucks selling bona fide soft serve hit the streets. Money changers, unarmed and unguarded, push cash through the market in wheelbarrows. Politicians from three distinct parties get ready for another day of debate, which recently included an animated discussion on registering nomadic voters.

It's all part of a Somali puzzle: how one area of the country, the northwest, also known as Somaliland, can seem so peaceful and functional — so normal, in fact — while the rest continues to be such a violent, chaotic mess.

This tale of two Somalias is especially striking now, as thousands of African Union peacekeepers prepare to rescue Mogadishu, the nation's bloodstained capital, from itself. The internationally backed transitional government that seized Mogadishu in late December with Ethiopia's help says it cannot survive without foreign aid and foreign peacekeepers to quell clan fighting and an escalating insurgency.

Somalilanders, who have wrestled with their own clan conflicts, find this ridiculous.

"You can't be donated power," said Dahir Rayale Kahin, the president of the Republic of Somaliland, which has long declared itself independent from the rest of Somalia. "We built this state because we saw the problems here as our problems. Our brothers in the south are still waiting — till now — for others."

But Somalilanders are waiting, too: waiting to be recognized. In 1991, as Somalia's government disintegrated and clan fighting in the south spun out of control, Somaliland, traditionally one of the poorest parts of Somalia, claimed its independence. But no country acknowledges it as a separate state and very few even contribute aid — which makes Somaliland's success all the more intriguing.

. . .

"It all goes back to the Brits," according to Hajji Abdi Waraabe, an 89-year-old member of Somaliland's upper house of Parliament.

When the colonial powers sliced up the Horn of Africa in the 19th century, the British got Somaliland and the Italians got Somalia. While the British relied mostly on clan chiefs to govern, the Italians created an entire Italian-speaking administration and imported thousands of people from Italy to farm bananas, build cathedrals and teach the people how to pour espresso.

One result was that Mogadishu, along the southern coast, became a major commercial hub and one of the most beautiful cities in Africa, but its traditional systems of authority were weakened. That is partly why, many Somalia analysts say, warlords were able to outmuscle clan elders and dominate Mogadishu in the vacuum that formed after the central government fell.

The British, on the other hand, never invested much in Somaliland, leaving it poor and dusty but with its traditions more or less intact. . . .

. . .

But the one issue that unites most Somalilanders is recognition. Somaliland has its own money, its own flag, its own national anthem and even its own passport.

"And we have peace, a peace owned by the community," said Zamzam Adan, a women's rights activist. "You'd think in this part of the world, that would count for something."
For the full story, see:
JEFFREY GETTLEMAN. "The Other Somalia: An Island of Stability in a Sea of Armed Chaos." The New York Times (Weds., March 7, 2007): A11.
(Note: ellipses added.)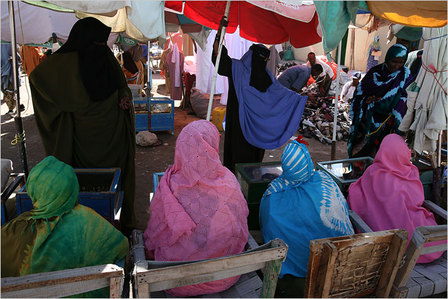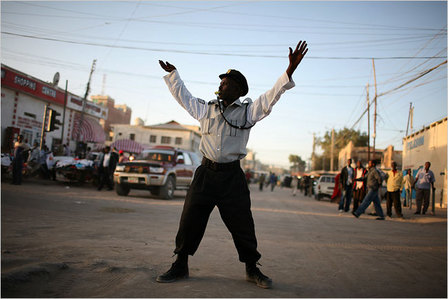 Top photo shows women selling jewelry. Middle photo shows a traffic cop performing a defensible function of government. At bottom, the map shows Somaliland relative to the rest of Somalia. Source of photos and map: online version of the NYT article cited above.