CHONGQING, China, March 23 — For weeks the confrontation drew attention from people all across China, as a simple homeowner stared down the forces of large-scale redevelopment that are sweeping this country, blocking the preparation of a gigantic construction site by an act of sheer will.

Chinese bloggers were the first to spread the news, of a house perched atop a tall, thimble-shaped piece of land like Mont-Saint-Michel in northern France, in the middle of a vast excavation.

Newspapers dived in next, followed by national television. Then, in a way that is common in China whenever an event begins to take on hints of political overtones, the story virtually disappeared from the news media after the government, bloggers here said, decreed that the subject was suddenly out of bounds.

. . .

What drove interest in the Chongqing case was the uncanny ability of the homeowner to hold out for so long. Stories are legion in Chinese cities of the arrest or even beating of people who protest too vigorously against their eviction and relocation. In one often-heard twist, holdouts are summoned to the local police station and return home only to find their house already demolished. How did this owner, a woman no less, manage? Millions wondered.

Part of the answer, which on meeting her takes only a moment to discover, is that Wu Ping is anything but an ordinary woman. With her dramatic lock of hair precisely combed and pinned in the back, a form-flattering bright red coat, high cheekbones and wide, excited eyes, the tall, 49-year-old restaurant entrepreneur knows how to attract attention — a potent weapon in China's new media age, in which people try to use public opinion and appeals to the national image to influence the authorities.

. . .

"I have more faith than others," she began. "I believe that this is my legal property, and if I cannot protect my own rights, it makes a mockery of the property law just passed. In a democratic and lawful society a person has the legal right to manage one's own property."

Tian Yihang, a local college student, spoke glowingly of her in an interview at the monorail station. "This is a peculiar situation," he said, with a bit of understatement. "I admire the owner for being so persistent in her principles. In China such things shock the common mind."

. . .

With the street so choked with onlookers that traffic began to back up, Ms. Wu's brother, Wu Jian, began waving a newspaper above the crowd, pointing to pictures of Ms. Wu's husband, a local martial arts champion, who was scheduled to appear in a highly publicized tournament that evening. "He's going into our building and will plant a flag there," Mr. Wu announced.

Moments later, as the crowd began to thin, a Chinese flag appeared on the roof with a hand-painted banner that read: "A citizen's legal property is not to be encroached on."

Asked how his brother-in-law had managed to get inside the locked site and climb the escarpment on which the house is perched, he said with a wink, "Magic."
For the full story, see:
HOWARD W. FRENCH. "CHONGQING JOURNAL; Homeowner Stares Down Wreckers, at Least for a While." The New York Times (Tues., March 27, 2007): A4.
(Note: ellipses added.)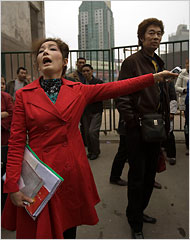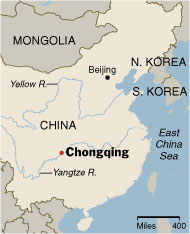 On left, Wu Ping, with her tall brother in the background. On right, a map showing the location of Chongqing in China. Source of photo and map: online version of the NYT article cited above.