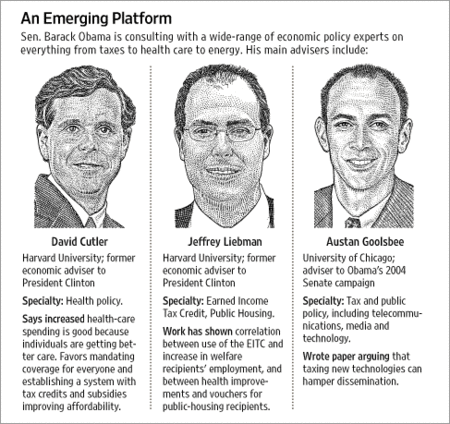 Source of graphic: online version of the WSJ article cited below.
In a previous entry, I expressed guarded optimism in response to an article that identified Austan Goolsbee as an advisor to Obama. The article excerpted below, casts Goolsbee in a less central role, thus giving reason to guard the optimism even more.
While Mr. Obama's economic platform is still in its formative stages, interviews with his aides and a review of his congressional record and speeches suggest that Obamanomics may place him somewhat to the left of New York Sen. Hillary Rodham Clinton, but to the right of former North Carolina Sen. John Edwards, another rival for the 2008 nomination. Mrs. Clinton seems to be cultivating the centrist mantle her husband won during his presidency, while Mr. Edwards is courting the party's labor and grassroots activist base.

. . .

As Mr. Obama prepares for his first series of domestic-policy speeches in the coming weeks, he appears to be still shopping for a place on the political spectrum.

One top economic adviser is Jeffrey Liebman, a Harvard economist and former adviser to President Clinton who is focused heavily on the earned income tax credit and its role in moving people from welfare to work.

The candidate is also consulting with University of Chicago economics professor Austan Goolsbee, a taxation expert and centrist Democrat who has advised Mr. Obama since his 2004 Senate campaign.

David Cutler, a Harvard economist specializing in health policy who served in the Clinton administration, is also among Mr. Obama's advisers.
For the full story, see:
DEBORAH SOLOMON. "Seeking Clues to Obamanomics; Democratic Candidate Is Just Beginning To Fill In the Blanks." The Wall Street Journal (Tues., April 24, 2007): A4.
(Note: ellipsis added.)