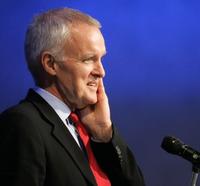 Former Nebraska Senator and Governor Bob Kerrey. Source of photo: online version of the Omaha World-Herald article cited below.
WASHINGTON – Raising a lonely voice in the Democratic Party, former Sen. Bob Kerrey of Nebraska says he strongly opposes any dramatic U.S. troop withdrawal from Iraq.

Such a retreat, Kerrey says, would hand radical Islamic terrorists a substantial victory and enable them to destroy the fledgling democracy in Iraq.

In an article published Tuesday and in an interview, Kerrey said terrorists would gain safe haven from which to launch further attacks on American citizens like those of Sept. 11, 2001.

Kerrey said that if the United States shows weakness in Iraq, it will "pay a terrible price."

"The forces of al-Qaida have demonstrated a tremendous capacity, and they'll use that capacity if we withdraw from the playing field," said Kerrey, a former two-term U.S. senator.

In the interview, Kerrey also had a message for fellow Democrats: "Just because George Bush said it doesn't mean it's wrong."
For the full story, see:
JAKE THOMPSON. "Kerrey says U.S. mustn't look weak in Iraq." Omaha World-Herald (Wednesday, May 23, 2007): 1A & 2A.
The link to Kerrey's opinion piece in the Wall Street Journal is:
BOB KERREY. "The Left's Iraq Muddle." The Wall Street Journal (Tues., May 22, 2007): A15.