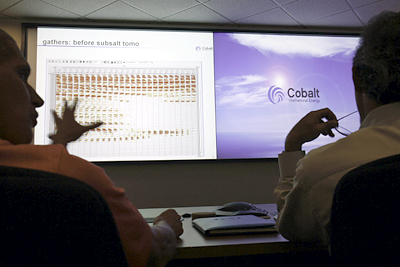 "Cobalt scientists analyze data to help pinpoint oil deposits." Source of caption and photo: online version of the NYT article cited below.
(p. 1) HOUSTON. JOSEPH H. BRYANT, still boyish-looking at 51, jostles with glee among tens of thousands of people here at the Offshore Technology Conference, one of the energy industry's biggest trade fairs. He is surrounded by newfangled technologies occupying more than half a million square feet of display space: drills stuffed with electronic sensors, underwater wells shaped like Christmas trees, mini-submarines and pipes, pumps, tubes, gauges, valves and gadgets galore.

"There is every little gizmo you need to make this business work," Mr. Bryant says, joyously. He stops at a plastic model of an offshore oil rig, an exact replica of a huge platform he commissioned while running BP's business in Angola a few years ago. "I love this stuff."

Like the pieces of a giant puzzle, the parts showcased here could fit together and build an oil company — and that's exactly what Mr. Bryant set out to do two years ago after a 30-year career directing energy projects for the likes of Amoco, Unocal and BP. With a team composed largely of retired energy executives, he wants to hunt for oil in the deep waters of the Gulf of Mexico or offshore West Africa, challenging Big Oil in its own backyard.

The American oil patch, once left to languish during an extended period of low oil prices, is on the rebound. Wildcatters like Mr. Bryant are ready to pounce. With oil prices now hovering around $60 a barrel — three times higher than they were throughout the 1990s — the industry is expanding at a pace last seen decades ago.

"The oil industry has changed dramatically in the last 20 years," Mr. Bryant says. "Barriers to entry have dropped significantly. It doesn't matter if you've been in the business 100 years or 100 days."

Easily available capital and technology, once the preserve of traditional oil companies, are reordering the business. Investors are lining up to finance energy projects while leaps in computing power, imaging tech-(p. 7)nology and collaborative online networks now allow the smallest entities to compete on an equal footing with the biggest players.

"There's a lot of money out there looking for opportunities," said John Schaeffer, the head of the oil and gas unit at GE Energy Financial Services. "It seems like everyone wants to own an oil well now."

Still, oil exploration remains a costly business fraught with peril. While the odds have improved, success is elusive; three-quarters of all exploration wells come up dry, either because there is no oil or because geologists miss its exact location. All of which means that Mr. Bryant's start-up, Cobalt International Energy, which plans to begin drilling next year, faces formidable hurdles.

"There's no sugar-coating this — at the end of the day, it's a high risk venture," Mr. Bryant says. "Financially, we're definitely wildcatting. It's either all or nothing."
For the full story, see:
JAD MOUAWADA. "Wildcatter Pounces; Oil Riches Lure the Entrepreneurs." The New York Times, Section 3 (Sun., May 20, 2007): 1 & 7.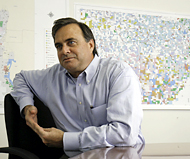 Wildcatter entrepreneur "Joseph H. Bryant started Cobalt." Source of caption and photo: online version of the NYT article cited above.