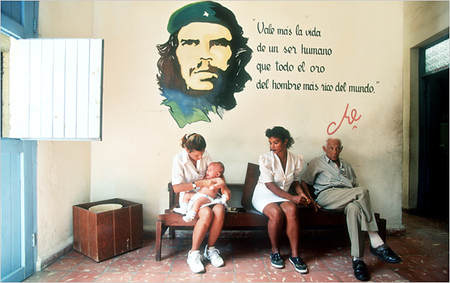 "THE DOCTOR MIGHT BE IN Cubans young and old at a Havana clinic in 2004." Source of caption and photo: online version of the NYT article cited below.
CUBA works hard to jam American TV signals and keep out decadent Hollywood films. But it's a good bet that Fidel Castro's government will turn a blind eye to bootleg copies of "Sicko," Michael Moore's newest movie, if they show up on the streets of Havana.

"Sicko," the talk of the Cannes Film Festival last week, savages the American health care system — and along the way extols Cuba's system as the neatest thing since the white linen guayabera.

Mr. Moore transports a handful of sick Americans to Cuba for treatment in the course of the film, . . .

. . .

Universal health care has long given the Cuban regime bragging rights, though there is growing concern about the future. In the decades that Cuba drew financial and military support from the Soviet Union, Mr. Castro poured resources into medical education, creating the largest medical school in Latin America and turning out thousands of doctors to practice around the world.

But that changed after the collapse of the Soviets, according to Cuban defectors like Dr. Leonel Cordova. By the time Dr. Cordova started practicing in 1992, equipment and drugs were already becoming scarce. He said he was assigned to a four-block neighborhood in Havana Province where he was supposed to care for about 600 people.

"But even if I diagnosed something simple like bronchitis," he said, "I couldn't write a prescription for antibiotics, because there were none."

He defected in 2000 while on a medical mission in Zimbabwe and made his way to the United States. He is now an urgent-care physician at Baptist Hospital in Miami.

Having practiced medicine in both Cuba and the United States, Dr. Cordova has an unusual perspective for comparison.

"Actually there are three systems," Dr. Cordova said, because Cuba has two: one is for party officials and foreigners like those Mr. Moore brought to Havana. "It is as good as this one here, with all the resources, the best doctors, the best medicines, and nobody pays a cent," he said.

But for the 11 million ordinary Cubans, hospitals are often ill equipped and patients "have to bring their own food, soap, sheets — they have to bring everything." . . .

. . .

Until he had to have emergency surgery last year, Fidel Castro — who turned 80 this year — was considered a model of vibrant long life in Cuba. But it was only last week that he acknowledged in an open letter that his initial surgery by Cuban doctors had been botched. He did not confirm, however, that a specialist had been flown in from Spain last December to help set things right.
For the full commentary, see:
ANTHONY DePALMA. "'Sicko,' Castro and the '120 Years Club'." The New York Times, Section 4 (Sun., May 27, 2007): 3.
(Note: ellipses added.)