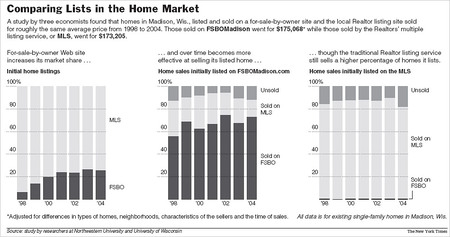 Source of graphic: online version of the NYT article cited below.
(p. A1) It sounds like the setup for a dull economist's joke. Who gets the better deal: the cautious economist who sells his house through a real estate agent, or his risk-taking colleague who finds a buyer on his own?

But the question — debated by two Northwestern University economists who chose different methods to sell their homes — and the research it helped prompt are serious. And the answer will be of interest to anyone who has paused to consider whether paying a real estate agent's commission, typically 5 to 6 percent of the sale price, is worth it.

The conclusion, in a study to be released today based on home-sales data from 1998 to 2004 in Madison, Wis., is that people in that city who sold their homes through real estate agents typically did not get a higher sale price than people who sold their homes themselves. When the agent's commission is factored in, the for-sale-by-owner people came out ahead financially.
For the full story, see:
JEFF BAILEY. "One City's Home Sellers Do Better on Their Own." The New York Times (Fri., June 8, 2007): A1 & C7.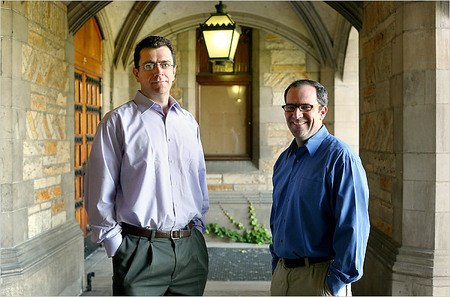 Economist Handel (left) sold his home by himself, while economist Nevo (right) used a real estate agent. Source of photo: online version of the NYT article cited above.