In an earlier blog entry, I expressed my own personal outrage at the passport debacle.
HOUSTON, June 6 — With government phone lines jammed by record numbers of passport-seekers, Veronica Alvarez and three anxious friends hoping to travel to Cancun next week showed up at the federal building here on Wednesday at 3 a.m.

There were 11 people in line ahead of them.

"We've been calling for a week every day," said Ms. Alvarez, 29, a bank clerk, who joined about 1,200 people who have been besieging the downtown office here daily for word on their passports, some of which were requested in February.

The State Department has acknowledged long delays from "unprecedented demand" after new rules requiring passports for travelers returning from Mexico, Canada and the Caribbean. It expects to announce new measures soon to ease the nationwide crush.

. . .

Much of the spike in applications is attributed to the Western Hemisphere Travel Initiative, which went into effect Jan. 23 and requires passports, merchant mariner documents or frequent-traveler Nexus cards for air travelers returning from Canada, Mexico, Central and South America, the Caribbean and Bermuda. Next January, the requirement is likely to be extended to ship, rail and road travelers.

But somehow, the government seemed caught by surprise when crowds began besieging passport offices this spring.

. . .

"Basically, they've taken my money," said Kevin Owens, 39, an oil industry employee, who sent in an expedited application April 20 and, with a June 14 trip to Jamaica looming, was still passportless. "The whole process is —" he searched for a word — "lacking."

. . .

A nervous Brianna Pollinger, 35, of suburban Katy, Tex., arrived at the passport office on Tuesday not knowing whether she would be able to leave Friday on a 10-year anniversary trip to Mexico with her husband. But after waiting nearly eight hours, she emerged with a prized blue-covered booklet. Was she mollified? "Oh, no," she said. "I definitely minded."
For the full story, see:
RALPH BLUMENTHAL. "Travelers Face Frustrations With Passport Rule Changes." The New York Times (Thurs., June 7, 2007): A20.
(Note: ellipses added.)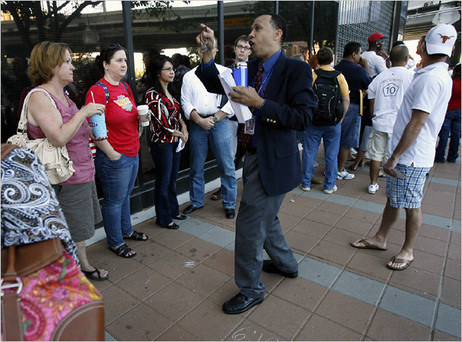 Notice how excited those in line seem to be at hearing what passport official Eric Botts ist telling them. Source of photo: online version of the NYT article cited above.