Genentech CEO Dr. Arthur D. Levinson. Source of image: online version of the WSJ article cited below.
(p. B1) WSJ: You have multiple blockbuster biotech drugs on the market and more on the way. In such an uncertain business, how do you manage scientists to achieve that kind of success?

Dr. Levinson: We are first and foremost committed to doing great science. If a drug can't be the first in class or the best in class, we're just not interested. We're not looking to achieve incremental advances or extend patents or do X, Y, Z unless it is going to really matter for patients. That allows us to bring in phenomenal scientists and encourage them to do the basic and translational research.

We decided 15 years ago that we would be committing (p. B2) to oncology, which at the time for us was new. We are now the leading producer of anticancer drugs in the United States. We took a lot of risks. In many cases, those risks paid off. We are now also in immunology. Again, the role of management here is to set the broad direction and then hire absolutely the best scientists and bring them in and say, 'Do your stuff.'
For the full interview, see:
MARILYN CHASE. The Wall Street Journal "How Genentech Wins At Blockbuster Drugs CEO to Critics of Prices: 'Give Me a Break'." The Wall Street Journal (Tues., June 5, 2007): B1 & B2.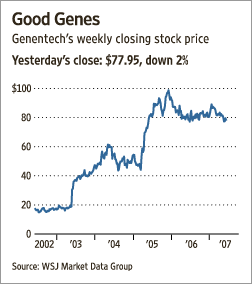 Source of graph: online version of the WSJ article cited above.