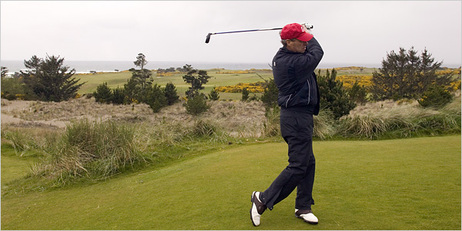 Wealthy greeting card executive Mike Keiser created and owns the Bandon Dunes Golf Resort, which caters to wealthy corporate executives who fly to the course in small private corporate jets. Source of the photo: online version of the NYT article cited below.
(p. C1) BANDON, Ore. — Mike Keiser, who made a fortune selling greeting cards on recycled paper, turned this remote spot on the southern Oregon coast into a golfing mecca that attracts wealthy people in private jets from around the world.

To many in this hard-luck town of 3,000, Mr. Keiser is an economic hero. Work became scarce after the timber and fishing industries collapsed a quarter-century ago, and his Bandon Dunes Golf Resort, a few miles north of town, has created 325 full-time jobs, plus hundreds more part-time jobs. Mr. Keiser earns millions of dollars in profits each year.

But beneath this model of enterprise, largely hidden subsidies from airline passengers, state-lottery players, taxpayers and company shareholders support the benefits that the owner, workers and visitors at Bandon Dunes enjoy.

Airline passengers and lottery players are paying for a $31 million airport expansion to serve the 5,000 business jets that arrive each year, filled almost entirely with golfers. Many of them are executives of publicly traded companies flying at a small fraction of the real cost of their trips; taxpayers and shareholders bear nearly all of these costs.

Much controversy swirls around the subsidies and tax exemptions state and local governments offer expressly to attract businesses to a community. But far less attention has been focused on the many kinds of indirect favors that are showered on places like Bandon Dunes through government policies (p. C6) that influence the flow of money from the public to private interests and often serve to reinforce benefits for those who are already successful.

. . .

No official tally of business subsidies exists, but in separate studies Peter S. Fisher of the University of Iowa and Kenneth F. Thomas of the University of Missouri estimated that state and local subsidies aimed at creating jobs total about $50 billion annually. More subtle subsidies like those that benefit Bandon Dunes are not counted in those figures and may be even larger.

Such government subsidies have been challenged as inefficient by a broad spectrum of critics, from the libertarian Cato Institute and the conservative Heritage Foundation to liberal groups like Good Jobs First.

To be sure, said Martin S. Feldstein, a Harvard University economics professor and a former chief economic adviser to President Ronald Reagan, some government subsidies can be beneficial for society.

"A subsidy for flu vaccines is good," he said, "because if you are vaccinated I am less likely to get flu by contagion." But job subsidies are a drag on the economy, he added, "unless the local gain exceeds the loss in the rest of the nation."
For the full story, see:
DAVID CAY JOHNSTON. "Assisting the Good Life." The New York Times (Fri., June 15, 2007): C1 & C6.
(Note: ellipses added.)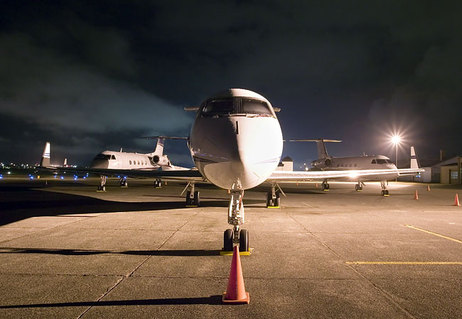 A few of the roughly 5,000 business jets that carry executive golfers to the public airport, built and expanded partly with fees from middle-class airline travelers. Source of the photo: online version of the NYT article cited above.