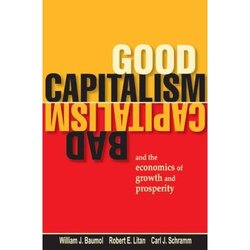 Source of book image: http://ec1.images-amazon.com/images/I/41WVH9PAR3L._SS500_.jpg
. . . capitalism as practiced in the U.S. is different from the capitalism practiced in, say, Singapore or Saudi Arabia. "Capitalism…takes many forms, which differ substantially…in their implications for economic growth and elimination of poverty," three economists write in "Good Capitalism, Bad Capitalism." The book identifies four strains of modern capitalism and argues the U.S. version is particularly well-suited to creating and exploiting innovations that boost living standards.

. . .

The book was written by William Baumol, an eclectic New York University economist impressively energetic at 85 years old; Carl Schramm, president and research director of the Kauffman Foundation and a recovering health economist and insurance executive; and Robert Litan, an economist-lawyer who was a budget and antitrust official in the Clinton administration. (Disclosure: I recently spoke at Kauffman's Kansas City, Mo., headquarters.)

. . .

Along the way, the economists make a point often missed in the romanticism about "small business." They aren't talking about all small businesses — the corner dry cleaner, for instance — or all the self-employed. Their entrepreneurs are entities that provide a new product or service or develop methods to produce or deliver existing goods and services at lower cost. . . .

It all sounds great — and compelling. A capitalism that cannot spur innovation and/or display flexibility to reorganize itself cannot be a model. In their book, though, the three touch too lightly on an issue about which Mr. Litan has written previously. As he puts it in an interview: "An entrepreneurial society is going to be more of a high-risk society."

The strengths of U.S.-style capitalism are apparent. No place in the past quarter century has better mixed the ingredients of talent, imagination, education, science and capital. But the risks are apparent, too: workers who lose jobs and find new ones that pay far less and lack health insurance, widening disparities between economic winners and losers, challenges posed by stiffening competition from low-wage, increasingly skilled workers abroad, and schools that aren't improving as fast as the economy is changing.

Preserving the strengths of American capitalism requires finding a way to reduce the anxiety and harm posed by such risks without losing the entrepreneurial vigor. That's the hard part.
For the full commentary/review, see:
DAVID WESSEL. "CAPITAL; By Capitalism's Vigor May Hinge On Confronting Its Risks." The Wall Street Journal (Thurs., May 10, 2007): A2.
(Note: ellipses added.)