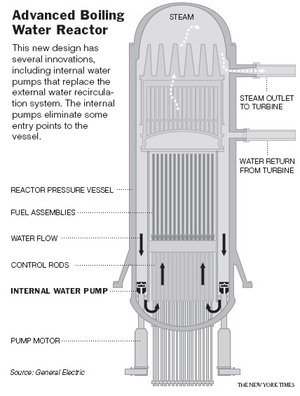 Source of graphic: online version of the NYT article quoted and cited below.
(p. C1) WASHINGTON, Sept. 24 — In a bid to take the lead in the race to revive the nuclear power industry, an energy company will ask the federal Nuclear Regulatory Commission on Tuesday for permission to build two reactors in Texas.

It is the first time since the 1970s and the accident at Three Mile Island that an American power company has sought permission to start work on a new reactor to add to the existing array of operable reactors, which now number 104.

. . .

(p. C11) NRG is planning to build the Advanced Boiling Water Reactor, which represents a relatively low-risk choice in an industry where few American companies have current experience with building a plant. . . .

. . .

The new design has several innovations that are aimed at sharply reducing the risk of meltdown, a risk that is described by the industry and by regulators as very low in any case. Other innovations are supposed to reduce the time and cost of construction.
MATTHEW L. WALD. "Approval Is Sought For Reactors." The New York Times (Tues., September 25, 2007): C1 & C11.
(Note: ellipses added.)