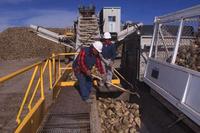 Sugar beats unloaded in Scottsbluff, Nebraska at Western Sugar in 1999. Source of photo: online version of the Omaha World-Herald article cited below.
In the article excerpted below, why does Chet Mullin of the Omaha World-Herald care only about beat growers, but not about sugar consumers?
The International Sugar Organization predicts a sizable global surplus of the sweet stuff this year. If the prediction comes true, will it hurt sugar beet growers like those in Nebraska's Panhandle?

The answer is no, according to Paul Burgener, agricultural economic research analyst at the University of Nebraska's Panhandle Research and Extension Center in Scottsbluff.

"We have allocations (for sugar production) and we also have a tariff system for imports, and between the two, the USDA manages supply and keeps the price at a fairly high level," Burgener said.
For the full story, see:
CHET MULLIN. "Sugar surplus won't harm beet growers." Omaha World-Herald (Tuesday, July 17, 2007): 1D & 2D.