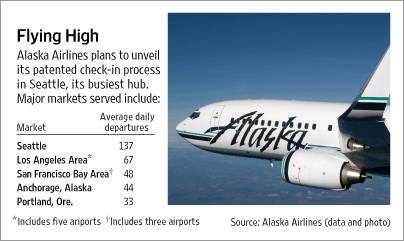 Source of graphic: online version of the WSJ article cited below.
The innovation described in the article excerpted below is credited as arising from a 'skunk works' project. There's a neat book called Skunk Works that describes how Lockheed set up an autonomous unit to develop the first stealth air force technology. (Their plant was in a smelly part of town, so it was dubbed the 'Skunk Works.')
Clayton Christensen has recommended that established incumbent companies set up skunk works operations in order to develop disruptive technologies that would not survive if they were developed within the main corporate culture and infrastructure.
(In the article excerpted below, it is puzzling to read that Alaska Air went to the trouble to take out a patent, even though they apparently have no intention of enforcing it.)
(p. B1) ANCHORAGE, Alaska — When the Ted Stevens Anchorage International Airport was planning a new concourse, prime tenant Alaska Airlines insisted on a counterintuitive design: "The one thing we don't want is a ticket counter," said Ed White, the airline's vice president of corporate real estate.

So the 447,000-square-foot Concourse C, which opened in 2004, has only one small, traditional ticket counter, even though the carrier's 1.2 million Anchorage passengers checked in through that area last year. This unconventional approach — which uses self-service check-in machines and manned "bag drop" stations in a spacious hall that looks nothing like a typical airport — has doubled Alaska's capacity here, halved its staffing needs and cut costs, while speeding travelers through the building in far less time.

. . .

(p. B4) Alaska's design in Anchorage has turned heads in the industry, and in 2006 the airline was awarded a U.S. patent for the check-in process, something it calls the two-step flow-through. Mr. White says his company isn't trying to keep competitors from going down the same path, but pursued the patent more to reward the many employees who helped to bring the idea to fruition.

Other airlines quickly sent scouts up to Anchorage to check out the new concourse, including a team from Delta Air Lines Inc., Mr. White says. A few months ago, Delta completed a $26 million renovation of its check-in hall at Hartsfield-Jackson Atlanta International Airport, and the finished product looks remarkably similar to that of Alaska Airlines. Greg Kennedy, Delta's vice president for customer service there, says the new layout has enabled the airline to process passengers checking in during the peak spring break travel period in 20 to 30 minutes at most, compared with two or three hours three years ago — and all in the same amount of square footage but 50% more usable space. Mr. Kennedy says he isn't aware of a visit to Anchorage but doesn't dispute it.

. . .

Alaska, the nation's ninth-largest carrier by traffic, started a "skunk works" lab a decade ago to figure out how to use technology to make air travel less of a hassle for passengers. Out of that effort came the airline's ground-breaking ability to sell tickets on the Internet and allow fliers to check in online, developments other carriers quickly followed.
For the full story, see:
SUSAN CAREY. "Case of the Vanishing Airport Lines; Alaska Air Speeds Up Flow Of Passengers by Jettisoning Traditional Ticket Counters." The Wall Street Journal (Thurs., August 9, 2007): B1 & B4.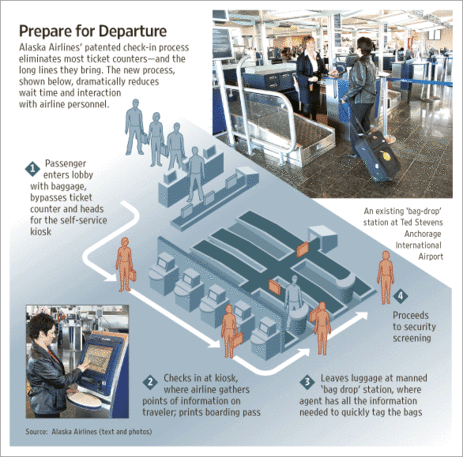 Source of graphic: online version of the WSJ article cited above.