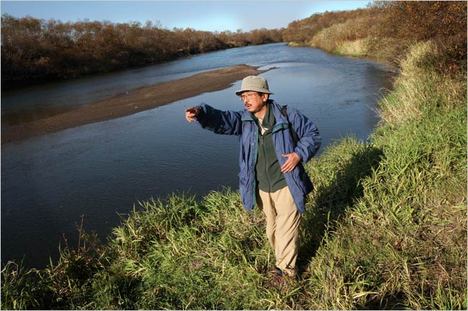 "Environmentalists like Takuo Sugisawa say that restoring bends to the Kushiro actually might cause more damage." Source of caption and photo: online version of the NYT article quoted and cited below.
(p. A4) KUSHIRO, Japan — In the early 1980s, engineers straightened out stretches of the Kushiro River, which had meandered some 100 miles under Hokkaido's big sky here in northern Japan, flowing through green hill country and rural towns, winding through the nation's largest wetland and this port city's downtown before emptying into the Pacific Ocean.
Later in November, work is to start again. But this time bulldozers will be moving earth to put curves back in a stretch of the river that had been straightened out, restoring its original, sinuous, shape.
. . .
. . . Trust Sarun Kushiro, a private environmental group that was a member of the committee that endorsed the project but voted against it, said that the reshaping would have little positive effect and that the construction itself would harm the environment. Stanching the flow of sediments from farmland and forests upstream, at their source, is more important, it argued.
And in a case of the left hand's not knowing what the right hand was stirring up, the Ministry of Agriculture had a project farther upriver that was sending mud and sand downstream, where Mr. Yoshimura's ministry is to curve the river, said Takuo Sugisawa, 61, the trust's secretary general. To rehabilitate farmland that had gradually become wetland, the ministry was draining existing land and moving earth there.
"The sediments flowing from upriver will quickly pile up where the river will be curved," Mr. Sugisawa said, adding that they would eventually bury the Kushiro wetland. To prevent that, workers will eventually have to remove the sediments that are bound to pile up in the recurved stretch, he said.
"So in the name of river management alone, they will be able once again to create public works in the form of removing soil," he said, walking along an asphalt road and across a bridge built to let trucks and bulldozers move earth for the curving project. "Public works will just keep going round and round and round."
For the full story, see:
NORIMITSU ONISHI. "KUSHIRO JOURNAL; Forced to Run Straight, a River Must Now Twist." The New York Times (Weds., November 7, 2007): A4.
(Note: ellipses added.)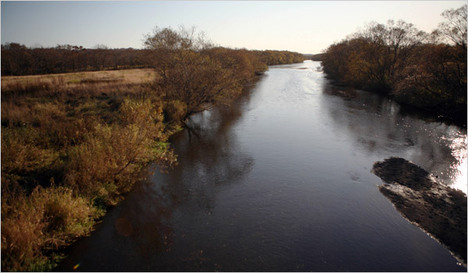 A part of the Kushiro River where curves will be added back. Source of photo: online version of the NYT article quoted and cited above.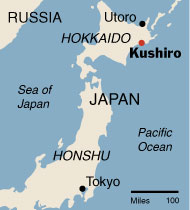 Source of map: online version of the NYT article quoted and cited above.