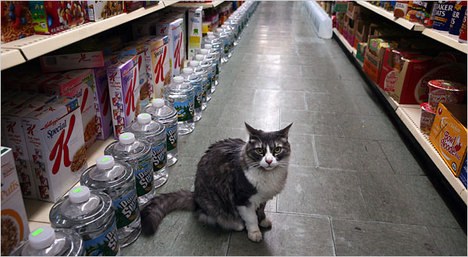 "Holly scares the rodents away at home, a deli in Williamsburg, Brooklyn." Source of caption and photo: online version of the NYT article quoted and cited below.
(p. A28) Across the city, delis and bodegas are a familiar and vital part of the streetscape, modest places where customers can pick up necessities, a container of milk, a can of soup, a loaf of bread.
Amid the goods found in the stores, there is one thing that many owners and employees say they cannot do without: their cats. And it goes beyond cuddly companionship. These cats are workers, tireless and enthusiastic hunters of unwanted vermin, and they typically do a far better job than exterminators and poisons.
When a bodega cat is on the prowl, workers say, rats and mice vanish.
. . .
To store owners, the services of cats are indispensable in a city where the rodent problem is serious enough to be documented in a still popular two-minute video clip on YouTube from late February (youtube.com/watch?v=su0U37w2tws) of rats running amok in a KFC/Taco Bell in Greenwich Village. Store-dwelling cats are so common that there is a Web site, workingclasscats.com, dedicated to telling their tales.
But as efficient as the cats may be, their presence in stores can lead to legal trouble. The city's health code and state law forbid animals in places where food or beverages are sold for human consumption. Fines range from $300 for a first offense to $2,000 or higher for subsequent offenses.
. . .
In October, a health inspector fined Mr. Martinez $300 and warned him that if Junior was still there by the time of the next inspection he would be fined $2,000.
"He wants me to get rid of the cat, but the rats will take over if I do," Mr. Martinez said. "I need the cat, and the cat needs a home."
Because stores do not get advance notification of an inspection, Mr. Martinez is trying to keep Junior in his office as much as possible. Many bodega owners reason that a cat is less of a health threat than an army of nibbling rats. "If cats live in homes and apartments where people have food, a cat shouldn't be a threat in a store if it's well maintained," Mr. Fernández said.

For the full story, see:
KATE HAMMER. "To Dismay Of Inspectors, Prowling Cats Keep Rodents On the Run At City Delis The New York Times (Fri., December 21, 2007): A28.
(Note: ellipses added.)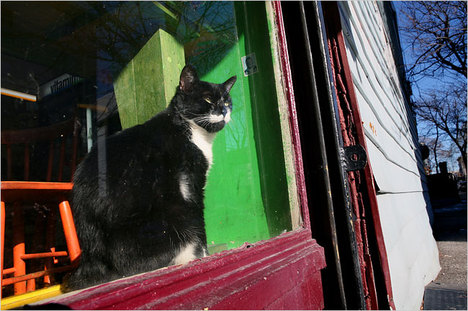 "Oreo roams at a deli in Greenpoint, Brooklyn." Source of caption and photo: online version of the NYT article quoted and cited above.