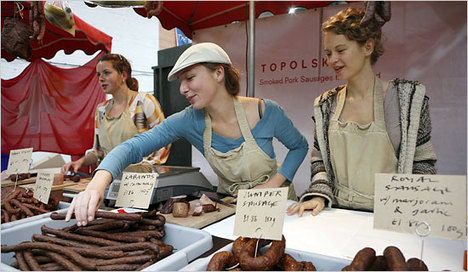 "Polish women selling sausages at the Borough Market in London. The British have also grown to enjoy Polish food." Source of caption and photo: online version of the International Herald Tribune version of the article quoted and cited below.
(p. C1) LONDON, Oct. 18 — When Piotr Farbiszewski landed here three years ago, he had enough money in his pocket to live for two weeks.
A successful technology consultant in Warsaw, he and his wife, Ela, a schoolteacher, had come to London to try it on for size; if they liked it, they would stay. To earn money, he worked as a builder while she flipped hamburgers.
They decided that they liked London, and within a year, Mr. Farbiszewski was a senior programmer at a software company. In March, the couple bought a small terraced house outside London, where they plan to raise a family.
"We're very happy here," Mr. Farbiszewski, 31, said. "The quality of life is better, the economy is stronger, there is less bureaucracy, it's a multicultural society and the lady in the supermarket will smile at me. People don't smile at each other in Poland."
The Farbiszewskis are small players in one of Europe's most successful immigration stories. Since Poland joined the European Union in 2004 and Britain, unlike France and most other members, welcomed Polish workers, an estimated 1.1 million Poles, mainly young, have come to Britain. Today, they are the third-largest group of immigrants in the country, behind (p. C5) Irish and Indians.
Britain has benefited. On Tuesday, the Home Office estimated that immigration added £6 billion ($12.3 billion) to the nation's economy last year. According to David Blanchflower of the Bank of England's monetary policy committee, East European immigration has also reduced inflation pressure by increasing the supply of goods and services.
Indeed, Britain may soon face a novel immigration problem. As Poland's economy has improved this year, immigration has slowed, which economists say could cause labor shortages in British industries.
For the full story, see:
JULIA WERDIGIER. "As the Poles Get Richer, Fewer Seek British Jobs." The New York Times (Fri., October 19, 2007): C1 & C5.