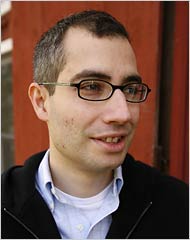 "Henry Schneider found few competent, honest mechanics." Source of caption and photo: online version of the NYT commentary quoted and cited below.
(p. C1) . . . , Mr. Schneider drove home to Connecticut and undertook a devilish little test.
Over the next few months, he took the Subaru to 40 garages, loosening the battery cable and draining some coolant before each visit. He even wrote himself a script and memorized it, to make sure he was telling every garage the same thing. "We bought the car recently, and we should have had it looked at before we bought it, but we didn't," he would say. "It hasn't started a few times. Can you check that out?" He also asked for a thorough inspection.
Mr. Schneider was trying to answer a question that has occurred to pretty much all drivers who have ever been given the unsettling news that a car needs more repairs than they had expected: Does it really? Or is the garage just looking to make some extra money off me?
. . .
At only 27 of the 40 garages did mechanics tell Mr. Schneider that he had a disconnected battery cable, the very problem to which he had pointed them by saying his car didn't always start. Only 11 mentioned the low coolant, a problem that can ruin a car's engine. Ten of the garages, meanwhile, recommended costly repairs that were plainly unnecessary, like replacing the starter motor or the battery. (Tellingly, his results were in line with what the Automobile Protection Association found when it performed its experiments in Canada.)
In all, only about 20 percent of the garages deserved a passing grade. "And that's with a pretty low bar," Mr. Schneider told me. "I'm even allowing them to have missed a blown taillight that should have been caught."
. . .
. . . , Mr. Schneider didn't set out to study cars. His original goal was to examine the health care system. But he couldn't very well give himself a heart murmur and then visit 40 cardiologists.
"It turns out it's hard to get objective measures of people's bodies," as Thomas Hubbard, a Northwestern University professor who has also studied the economics of reputation, put it. "It's a lot easier to get objective measures of people's cars."
. . .
Until some savvy entrepreneur starts a garage-rating business, the best solution may be the oldest one: asking for a recommendation from someone who is knowledgeable enough to distinguish between good service and bad. Just remember that a lot of people don't know quite as much about cars — or their mechanic — as they think they do.

For the full commentary, see:
DAVID LEONHARDT. "ECONOMIC SCENE; When Trust In an Expert Is Unwise." The New York Times (Weds., November 7, 2007): C1 & C9.
(Note: ellipses added.)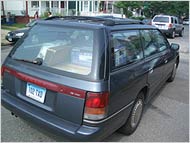 "Schneider sabotaged his dad's old station wagon to test the honesty of mechanics." Source of caption and photo: online version of the NYT commentary quoted and cited above.