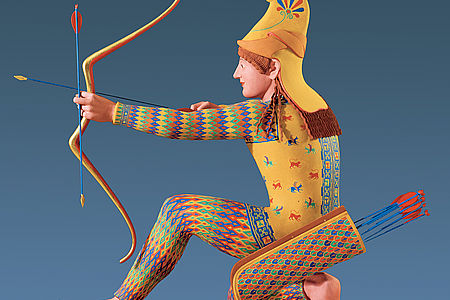 "Trojan Archer from the Temple of Aphaia on Aegina." Source of caption and photo: online version of the WSJ article quoted and cited below.
Ayn Rand's Howard Roark in The Fountainhead railed against the mindless imitation of the classics, as embodied for instance in the Parthenon. In sculpture there has also been blind imitation of white classical figures, such as one that has recently been installed next to the Arts and Sciences Building on my campus at the University of Nebraska at Omaha.
One imagines that Rand and Roark would have been amused by the article quoted below, that shows that the classical sculptures were actually rich in color.
(p. D8) The Venus de Milo: white. The Apollo Belvedere: white. The Barberini Faun: white. The passing centuries may have cast their pall of grime, yet ever since the Renaissance rediscovered antiquity, our Platonic ideal of classical statuary has been bare marble: bleached, bone white.
The Greeks and Romans did not see it that way. The current show "Gods in Color: Painted Sculpture of Classical Antiquity" — through Jan. 20 at the Arthur M. Sackler Museum on Harvard University's campus — makes a bold attempt to set the record straight. On view are replicas painted in the same mineral and organic pigments used by the ancients: pulverized malachite (green), azurite (blue), arsenic compounds (yellow, orange), cinnabar or "dragon's blood" (red), as well as charred bone and vine (black). At first glance and quite a while after, the unaccustomed palette strikes most viewers as way over the top. But few would deny that these novelties — archers, goddesses, mythic beasts — look you straight in the eye.
. . .
By the 18th century, practitioners of the then-new science of archaeology were aware that the ancients had used color. But Johann Joachim Winckelmann, the German prefect of antiquities at the Vatican, preferred white. His personal taste was enshrined by fiat as the "classical" standard. And so it remained, unchallenged except by the occasional eccentric until the late 20th century.
For the full story, see:
MATTHEW GUREWITSCH. "CULTURAL CONVERSATION With Vinzenz Brinkman; Setting the Record Straight About Classical Statues' Hues." The Wall Street Journal (Tues., December 4, 2007): D8.
(Note: ellipsis added.)