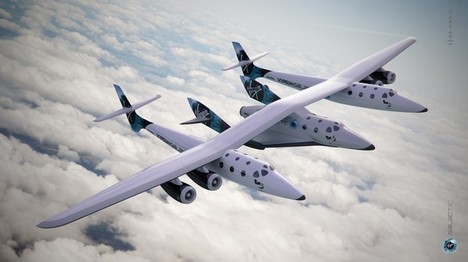 Burt Rutan's current design for WhiteKnightTwo, carrying the smaller SpaceShipTwo spaceship. Source of image: http://www.techno-science.net/?onglet=news&news=4993

(p. A18) Virgin Galactic, the company that hopes to fly well-heeled tourists to the edge of space by the end of 2009, provided a peek Wednesday at the craft that will take them there.
During a news conference at the American Museum of Natural History in Manhattan, Richard Branson, the British entrepreneur whose Virgin Airways is the parent company of the project, said 2008 would be "the year of the spaceship."
Mr. Branson showed models of two vehicles, both created by the airplane designer Burt Rutan. WhiteKnightTwo, a two-fuselage, four-engine plane, is designed to ferry a smaller spacecraft, SpaceShipTwo, high into the sky and release it. The pilot of SpaceShipTwo will then fire the craft's rocket engine, which burns a combination of nitrous oxide and a rubber-based solid fuel, shooting the vehicle to an altitude of more than 62 miles into the realm of black sky.
For the full story, see:
JOHN SCHWARTZ. "Built to Fly Into Space With the Greatest of Ease (They Hope)." The New York Times (Thurs., January 24, 2008): A18.

Artist's rendering of SpaceShipTwo spaceship. Source of image: http://www.techno-science.net/?onglet=news&news=4993