Source of map: online version of the WSJ article quoted and cited below.
(p. R12) The Arctic summers have grown longer, raising concerns among scientists and environmentalists that the polar ice cap is melting and that carbon emissions from oil and other fossil fuels are to blame. But for players in the energy industry, the longer summers and the retreat of the permanent ice cover are opening up new possibilities.
. . .
Energy companies already are seeing a "dramatic difference" in the amount of time they can work in the far north, says Mike Watts, exploration director at Cairn Energy PLC, an Edinburgh, Scotland-based company. On Jan. 9 it acquired licenses to explore off the west coast of Greenland, which is a self-governed province of Denmark. Greenland is also considering a sale of east-coast rights in 2012. For the moment, those waters remain choked with ice year-round, but four years from now "that might have changed," says Mr. Watts.
. . .
Efforts by GustoMSC and other offshore-drilling experts represent the first significant research push into Arctic drilling technology in 20 years. At present, only around five rigs are capable of drilling in Arctic waters more than 300 feet deep, where energy companies are increasingly turning their focus, and even those tend to operate in 2,000 feet of water or less. Rigs now under construction will be able to search for oil in waters up to 12,000 feet. But Bob Long, chief executive at Transocean Inc., the world's largest offshore driller, estimates it will be 15 years before the supply of deep-water Arctic rigs catches up with demand.
. . .
To create Bully No. 1, GustoMSC took the standard design for its latest generation drillship — which looks like an oil tanker with a derrick on top — and set about winterizing it. The Bully will feature the bow of an icebreaker and be constructed from an ultra-flexible grade of steel to protect the hull from shattering in extreme cold. Heating systems will be installed along every inch of piping. Special heating units will also protect ballast tanks, which use seawater to stabilize the rig and can freeze in extreme cold. Engine vents will be widened and warmed to keep ice from building up.
For the full story, see:
BRIAN BASKIN. "Producers; Northern Exposure; As the Arctic gets warmer, oil and gas producers see the chance for a big expansion. But plenty of technological hurdles remain." The Wall Street Journal (Mon., February 11, 2008): R12. & R14.
(Note: ellipses added.)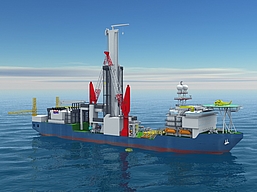 "ARCTIC EXPLORER. The Bully No. 1 drillship, now being built in Shanghai, will start work in 2010." Source of caption and photo: online version of the WSJ article quoted and cited above.