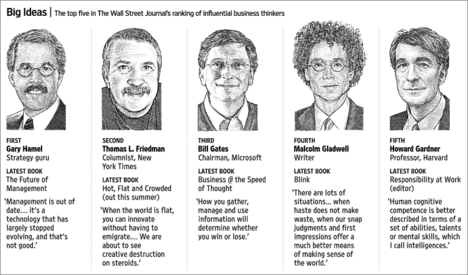 Source of graphic: online version of the WSJ article quoted and cited below.
The top two business gurus in the WSJ's latest ranking, have each written major books that make substantial use of Schumpeter's concept of creative destruction. (The Hamel book is Leading the Revolution, and the Thomas Friedman book is The Lexus and the Olive Tree.)
Others among the top 20 gurus who have written favorably of the process of creative destruction, include Clayton Christensen, Jack Welch, and Tom Peters.
(p. B1) The guru game is changing.
Psychologists, journalists and celebrity chief executives crowd the top of a ranking of influential business thinkers compiled for The Wall Street Journal. The results, based on Google hits, media mentions and academic citations, ranked author and consultant Gary Hamel No. 1.
But Dr. Hamel is the only traditional business guru in the top five, which includes two journalists, Thomas Friedman and Malcolm Gladwell, and a former CEO, Bill Gates. Mr. Gladwell is among three thinkers in the top eight who focus on psychology. His 2005 book "Blink: The Power of Thinking Without Thinking" examined the role of snap judgments in decision-making. Howard Gardner, a professor of education at Harvard best known for the theory of "multiple intelligences," is No. 5, while Daniel Goleman, a psychologist who has written about "emotional intelligence," ranks eighth.
Thomas H. Davenport, a management professor at Babson College, compiled the ranking, employing the same methodology he used in a 2003 book, "What's the Big Idea?" Several well-known business gurus fell lower in the updated list, including Michael Porter and Tom Peters, who topped the 2003 ranking and dropped to Nos. 14 and 18, respectively. Harvard's Prof. Porter noted that his last book was on health care rather than general management, and that "I feel like my recent work continues to have an impact in my various fields."
Dr. Davenport says the changes show that time-strapped managers are hungry for easily digestible advice wherever they can find it. Today, the most pressing themes include globalization, motivation and innovation. Traditional business gurus writing "weighty tomes" are in decline, he says.
For the full story, see:
ERIN WHITE. "New Breed of Business Gurus Rises; Psychologists, CEOs Climb in Influence, Draw Hits, Big Fees." Wall Street Journal (Mon., May 5, 2008): B1.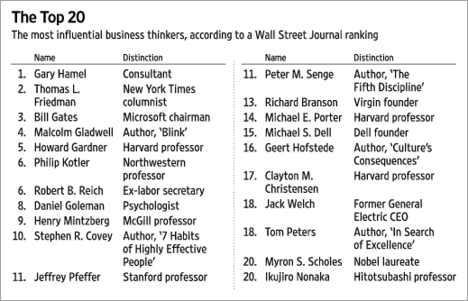 Source of table:
ERIN WHITE. "What Influential Business Thinkers Focus On; Top Gurus Ponder Manager's Worries, New Approaches." Wall Street Journal (Mon., May 5, 2008): B6.
(Note: the online version of the article has the title: "Quest for Innovation, Motivation Inspires the Gurus; Leading Thinkers Apply Varied Skills For Global Solutions.")