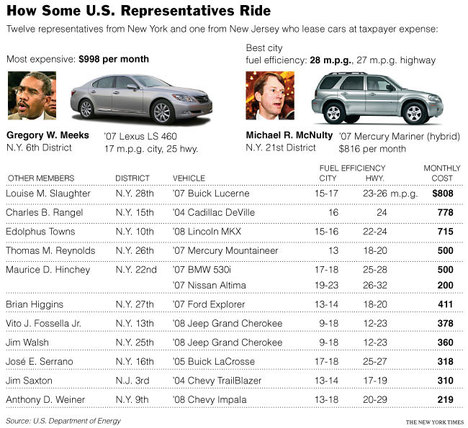 Source of graphic: online version of the NYT article quoted and cited below.
Seven of the eleven representatives in the table above are Democrats. Look at the gas mileage of the cars, and recall that it is the Democrats who are given to lecture us on how we need to do more about the environment.
(The four Republicans on the list are Reynolds, Fossella, Walsh and Saxton.)
(p. A1) Charles B. Rangel, the chairman of the House Ways and Means Committee, is not so caught up in the question of gas mileage. He leases a 2004 Cadillac DeVille for $777.54 a month. The car is 17 feet long with a 300-horsepower engine and seats five comfortably.
"It's one of the bigger Cadillacs," Mr. Rangel, of Harlem, said cheerfully this week. "I've got a desk in it. It's like an airplane."
Modest or more luxurious, the cars are all paid for by taxpayers. The use of a car — gas included — is one of the benefits of being a member of the House of Representatives.
. . .
(p. A19) Mr. Rangel said he frequently offers rides to constituents so they can discuss their concerns in the luxurious confines of his DeVille.
"I want them to feel that they are somebody and their congressman is somebody," Mr. Rangel explained. "And when they say, 'This is nice,' it feels good."
For the full story, see:
RAYMOND HERNANDEZ. "What Would You Drive, if the Taxpayers Paid?" The New York Times (Thurs., May 1, 2008): A1 & A19.
(Note: ellipsis added.)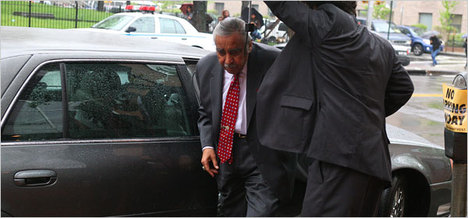 "Representative Charles B. Rangel says his leased Cadillac DeVille projects an image of success." Source of caption and photo: online version of the NYT article quoted and cited above.